Innovation
Smith Anderson's Innovation department leverages the firm's collective knowledge and the latest technology to implement new ideas that drive value for our clients and for our firm. Our team focuses on creating process improvement protocols that increase efficiency and promote information sharing across various departments within the firm, and ultimately, with our clients.
We prioritize collaboration and believe that working with people who hold diverse experiences and perspectives will inspire innovation. Innovation's core areas of focus include:
Knowledge Management
Providing efficient access to our collective knowledge and experience...
Knowledge Management (KM) is a project and data management initiative that benefits our clients through proprietary systems and processes to enable efficient access to our experience, best practices and model documents. This KM initiative supports the delivery of exceptional legal services to our clients.
Cost Analysis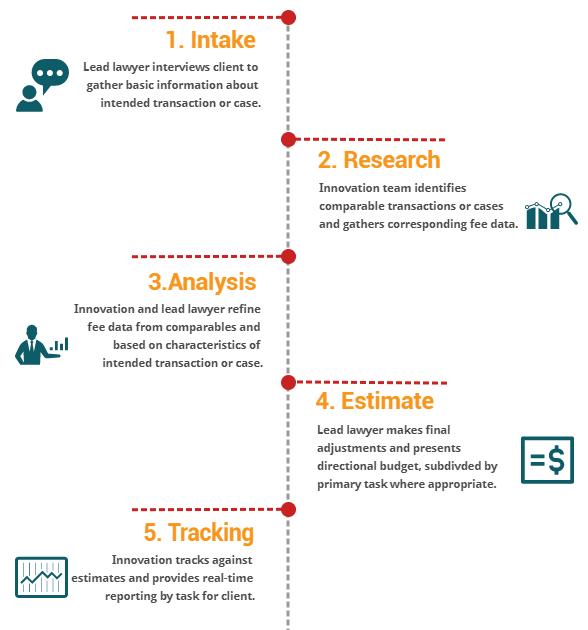 We recognize the value of predictability for managing transaction costs, so we provide clients with directional budgets based on collected data from similar past transactions. Paired with real-time communication about accruing fees and project status, this allows close monitoring and a clear view for project management.
Legal fees for complex transactions are notoriously difficult to predict and depend on each project's particular circumstances. Our Innovation team leverages our collective resources to develop directional budgets based on real experience from similar past projects.
Our timekeeping practices enable real-time fee monitoring and reporting, enabling clients to anticipate and plan for legal costs.
Business Intelligence
Leveraging artificial intelligence and business intelligence to drive value for our clients...
We continuously assess the way we provide legal services and we proactively seek opportunities to increase the value provided to our clients. We believe that we are all innovators and that the next "big idea" might come out of a conversation with our lawyers or with a client seeking to learn more about our operations. A simple idea can often lead to a new and innovative approach with a measurable impact.
"The lawyers are incredibly responsive, acutely aware of the urgency of matters and never fail to deliver. They understand not only our business but also our culture and team dynamics."

Client quotation as published in Chambers USA

"The team provides top-end talent, experience and quality of work."



Client quotation as published in Chambers USA

"Their work is excellent. The timing, responsiveness, negotiation quality, personality, thoroughness and cost management are all beyond expectations."

Client quotation as published in Chambers USA