Practice Contact
Professionals In This Practice
Related Areas
Technology
Technology-centric companies are often at a crossroads where the benefits of new and disruptive technologies meet ever-changing laws intended to address problems arising from those same technologies. It is crucial to the success of such businesses that their lawyers keep pace and possess the ability to address unique legal issues arising from the development, evolution, production, marketing, acquisition, licensing and use of technology assets and information.
Attorneys in our Technology practice have represented many of North Carolina's broad spectrum of industry-leading companies in technology-centric business transactions and litigation. As one of the leading business and litigation law firms in the Research Triangle region, our technology team combines Smith Anderson's long history of committed service and client focus with extensive experience in the evolving technology landscape.
Serving Start-ups to Global Corporations
We serve clients of all sizes and at all stages of development, from emerging start-ups and university spinouts to publicly traded companies, technology-focused private equity firms and venture capital firms. Our team works alongside our clients to help them achieve their business objectives in a variety of fields, including life sciences, health care, software, information and materials technologies, video games, Internet, social media, big data, clean energy and others.
Our clients receive step-by-step guidance in transactions designed to access, develop, protect and monetize technology assets, in addition to savvy counsel for technology-related disputes involving the infringement or misappropriation of patents, trade secrets, or other intellectual property, as well as commercial disputes involving contracts for technology goods or services.
Core Areas of Practice
Technology needs are unique and we understand the level of service and support required that is essential to a client's successful navigation of this fast-paced industry. That support could mean strategic guidance in the development, acquisition, commercialization and protection of technology products and services; identification and evaluation of intellectual property risks and opportunities; or strategic acquisitions and divestitures of technology-based companies and assets,including mergers & acquisitions and license arrangements; as well as assistance throughout a technology company's lifecycle from formation, structure and governance, and debt and equity financing, to public and private security offerings. In addition, we regularly help with technology alliances and dispute management, including representation in litigation, arbitration and mediation, as well as drafting and negotiation of technology-related settlements and counseling on intellectual property law and data use, privacy and security law.
Smith Anderson is knowledgeable in different sectors and has sophisticated teams dedicated to multiple areas of technology law, including:
As a full-service business and litigation law firm, we work with our colleagues across other practice areas to provide our clients with a wide array of legal services. CLICK HERE to view the full list of our practices.
Research, development and commercialization collaborations

Partnering, strategic alliance and joint venture arrangements
Mergers and acquisitions
Product and asset acquisitions and divestitures
Intellectual property and technology licensing and transfer
Venture capital, initial public offerings and other equity and debt financings
Information privacy and security matters, including policies and procedures, breach notice and incident response, investigations and corporate transactions
Clinical trial and Contract Research Organization arrangements
Manufacturing, supply and distribution arrangements
Government contracts
Outsourcing arrangements
Sales force and co-promotion arrangements
Company formation, structuring and governance
Patent and trade secret litigation
Software litigation
Licensing disputes
News
March 6, 2017

February 16, 2017

November 30, 2016

June 22, 2016

June 7, 2016

May 12, 2016

March 11, 2016

December 9, 2015

June 8, 2015

May 20, 2015

April 22, 2015

March 12, 2015

January 23, 2015

August 18, 2014

June 18, 2014

June 18, 2014

April 4, 2014

March 12, 2014

February 24, 2014

January 30, 2014

August 15, 2013

August 15, 2013

July 8, 2013

July 8, 2013

March 15, 2013

February 7, 2013

December 21, 2012

December 20, 2012

December 11, 2012

December 6, 2012

December 5, 2012

August 13, 2012

June 12, 2012

May 4, 2012

April 6, 2012

February 7, 2012

January 3, 2012

November 22, 2011

November 14, 2011

October 11, 2011

September 16, 2011

September 7, 2011

August 12, 2011

June 24, 2011

June 15, 2011

April 15, 2011

April 14, 2011

April 5, 2011

April 4, 2011

April 4, 2011

March 8, 2011

February 22, 2011

November 9, 2010

October 27, 2010

September 2, 2010

July 19, 2010

July 15, 2010

June 26, 2010

June 14, 2010

May 20, 2010

May 13, 2010

May 6, 2010

April 30, 2010

April 29, 2010

April 1, 2010

November 23, 2009

November 10, 2009

June 23, 2009

April 6, 2009

February 24, 2009

February 20, 2009

February 4, 2009

February 4, 2009
Publications
February 16, 2015

August 13, 2014

July 22, 2014

May 21, 2014

April 3, 2014

January 11, 2014

April 5, 2013
Since January 2016, Smith Anderson has advised clients in more than 300 transactions representing approximately $30 billion in value, including mergers, acquisitions and divestitures; real estate development and construction; life sciences and health care; technology and intellectual property; debt finance; private equity and mezzanine finance; initial public offerings; growth companies and venture capital; and fund formation. The following provides a comprehensive overview of some of our clients' key business transactions in 2016. Highlights include:
Over 60 Mergers, Acquisitions and Public Offerings totaling approximately $22 billion, including the representation of Quintiles in its merger with IMS Health Holdings.
Over 60 Life Sciences and Health Care transactions, including an immuno-oncology partnership worth up to $1.6 billion for genome editing company Precision BioSciences.
Over 70 Debt Finance and more than 50 Private Equity and Mezzanine Finance transactions totaling more than $4 billion.
Over 100 Real Estate and Construction matters totaling more than $2 billion.
Over 60 Technology and Intellectual Property transactions totaling more than $3 billion, including the representation of Southern Company and PowerSecure, Inc. in their strategic alliance with Bloom Energy Corporation.
Our firm is fortunate to have worked on a wide array of transactions with a diverse group of clients. CLICK HERE to expand the image below, which lists some of our clients and their business transactions in 2016.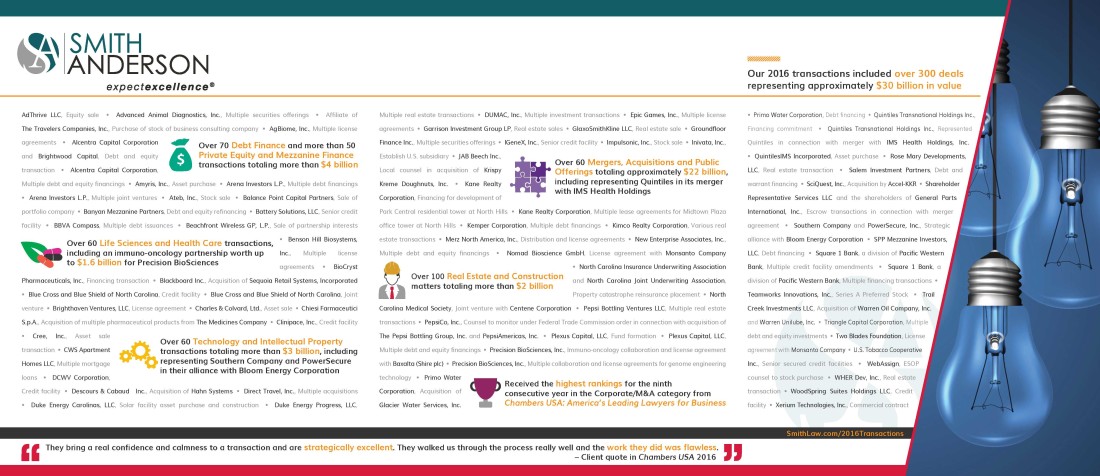 Print PDF