Overview
Public companies today must rely on experienced and informed legal advice to navigate successfully the increasingly complex world of corporate securities regulation. Our Securities lawyers serve public companies at all stages from initial public offering to deregistration. While balancing legal issues, regulatory requirements and business objectives, our attorneys assist with debt and equity financings, public reporting and disclosure, exchange listing compliance, shareholder relations, corporate governance and other matters affected by securities regulation.
We leverage our diverse securities track record to counsel businesses ranging from community banks to Fortune 500 corporations. Our Raleigh-based law firm comprises many lawyers with valuable experience gained at national and international law firms, enabling us to provide sophisticated guidance with public and private offerings, regulatory compliance (including '34 Act, Sarbanes-Oxley, Dodd-Frank, conflict minerals and others), governance, and corporate policy development. It is imperative for us to stay abreast of continuous changes from the SEC and listing exchanges and other legal developments important for public companies, as well as to provide tailored advice to help our clients meet applicable requirements.
Our Securities law practice and a number of its individual lawyers have been recognized by such ranking publications as Chambers USA, one of the leading ranking agencies for law firms and lawyers, "Best Law Firms" – a joint collaboration between U.S. News & World Report and Best Lawyers®, The Best Lawyers in America©, North Carolina Super Lawyers and Business North Carolina "Legal Elite."
We provide public companies with the strategic counsel, regulatory knowledge, informed judgment and practical business advice essential to compliance and achieving their corporate goals. Additionally, we offer day-to-day involvement and working relationships with senior, experienced lawyers with broad expertise. As a regional, full-service business and litigation law firm, we also offer such complementary legal services as Mergers and Acquisitions, Corporate Governance, Employment, Labor and Human Resources, Tax, Commercial Litigation, Complex Contract Disputes and Environmental and OSHA. For a full list of our practice areas, CLICK HERE.
Experience
Represented a global provider of biopharmaceutical development services and commercial outsourcing services in its $1.1 billion initial public offering and listing on the New York Stock Exchange (NYSE), as well as subsequent secondary offerings totaling proceeds over $1 billion to selling shareholders
Represented a public telecommunications company in its $780 million going private sale to a private equity consortium
Represented global solid state LED lighting and semiconductor manufacturing company in $434 million public offering of common stock
Represented the largest electric utility in the United States in tender offer for outstanding contingent value rights
Represented a global provider of biopharmaceutical development services and commercial outsourcing services in its multi-billion dollar going private transaction and subsequent private equity transaction
Represented NASDAQ-listed company in listing and subsequent delisting from the SIX Swiss Exchange
Represented a global biopharmaceutical services company with its $525 million offering of senior notes and a related holding company reorganization and spin-off of a subsidiary to its shareholders
Represented a global biopharmaceutical services company in connection with a tender offer for its outstanding $525 million senior notes
Represented a multinational manufacturer and supplier to the paper making industry in connection with a private placement of $240 million of senior notes and subsequent exchange offer for registered notes
Represented major convenience store chain in connection with a tender offer and consent solicitation with respect to outstanding senior secured notes
Represented a major convenience store chain in Rule 144A/Regulation S issuance of unsecured debt and subsequent registered exchange offer
Represented a global pharmaceutical contract manufacturing and development company in subscription rights offering in connection with an acquisition and refinancing

Represented a developer of medical and cosmetic products in a $5 million registered direct offering of common stock and warrants

Represented technology, life sciences, manufacturing, bank, service and ag-bio companies in public offerings of common stock
Represent multiple public companies in regular 1934 Act compliance, securities filings and corporate governance matters
Services
Initial public offerings (IPO)
Registered offerings
Private offerings including Reg. D and Rule 144A offerings
Tender offers
Securities Exchange Act of 1934 compliance
Sarbanes-Oxley Act compliance
Equity compensation
Corporate governance counseling
Mergers and acquisitions
Takeover and defense planning
Board and special committee conduct
Legal compliance planning
Corporate policy development
2016 Closed Transactions
2016 Closed Transactions
Since January 2016, Smith Anderson has advised clients in more than 300 transactions representing approximately $30 billion in value, including mergers, acquisitions and divestitures; real estate development and construction; life sciences and health care; technology and intellectual property; debt finance; private equity and mezzanine finance; initial public offerings; growth companies and venture capital; and fund formation. The following provides a comprehensive overview of some of our clients' key business transactions in 2016. Highlights include:
Over 60 Mergers, Acquisitions and Public Offerings totaling approximately $22 billion, including the representation of Quintiles in its merger with IMS Health Holdings.
Over 60 Life Sciences and Health Care transactions, including an immuno-oncology partnership worth up to $1.6 billion for genome editing company Precision BioSciences.
Over 70 Debt Finance and more than 50 Private Equity and Mezzanine Finance transactions totaling more than $4 billion.
Over 100 Real Estate and Construction matters totaling more than $2 billion.
Over 60 Technology and Intellectual Property transactions totaling more than $3 billion, including the representation of Southern Company and PowerSecure, Inc. in their strategic alliance with Bloom Energy Corporation.
Our firm is fortunate to have worked on a wide array of transactions with a diverse group of clients. CLICK HERE to expand the image below, which lists some of our clients and their business transactions in 2016.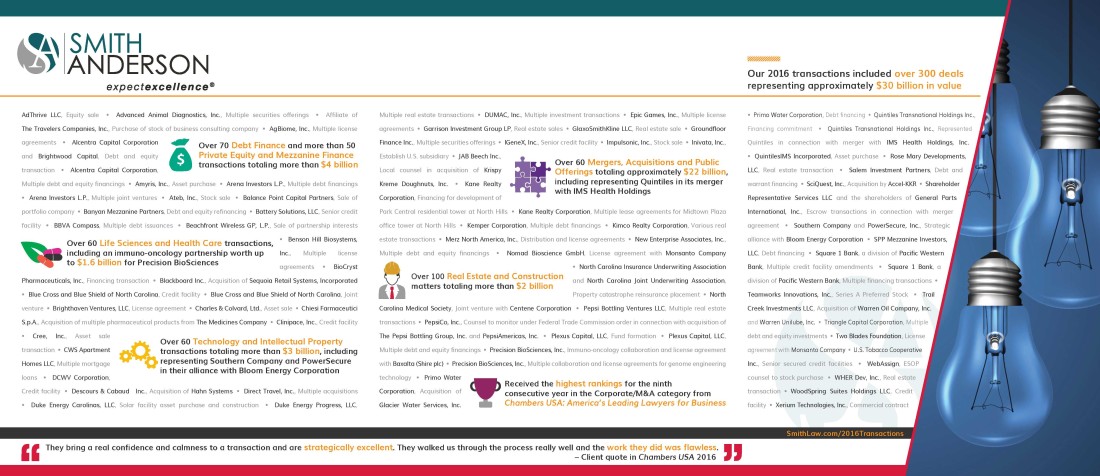 Practice Contacts