Overview
We take pride in assisting our private equity and private equity-backed clients as they help drive the engines of the global economy. As a full-service business and litigation law firm based in Raleigh, North Carolina, our firm's robust Private Equity practice, combined with our strength in the related areas of Mezzanine Financing, and Mergers and Acquisitions, provides us with an ideal blend of experience to offer our clients sophisticated legal services and counsel.
Our veteran private equity lawyers work closely with clients to craft targeted, innovative strategies for each deal. We regularly advise private equity funds, independent sponsors and other investors on a variety of transactions, including portfolio company acquisitions, control and minority investments, management buyouts, add-on acquisitions and dispositions of portfolio company investments. We also assist with other aspects of private equity transactions, including the negotiation and structuring of senior credit facilities, subordinated debt investments and management equity arrangements.
We have significant experience representing fund sponsors in the structuring and formation of new private equity funds as well as general partner and management company entities. Our attorneys also regularly advise limited partners and other investors in connection with investments in private equity funds and negotiation of side letters.
In addition to our experience representing funds and their investors, we have a long tradition of representing private equity-backed companies in connection with the negotiation of investments from private equity funds and other investors. Our experience on the investor side gives us a clear perspective for market terms and allows us to provide our clients extensive and practical knowledge in negotiating financing transactions. We routinely represent both investors and portfolio companies in private equity transactions ranging from $1 million to $3 billion.
We work closely with you to help achieve your business objectives, add value and create wealth. Our highly capable team members include lawyers with corporate, securities and fund experience at major national and international law firms. We offer assistance in such related areas as Securities, Tax, Mezzanine Finance, Corporate Governance and Compliance, Intellectual Property, Employment, Labor and Human Resources, Employee Benefits and Executive Compensation, Government Affairs, Corporate Relocations and Expansions, Mergers and Acquisitions, and Complex Contract Disputes.
---
To expand the image below, CLICK HERE and view some selected clients and their business transactions.
Experience
Click HERE to view our Private Equity brochure detailing our experience. Highlights include:
Representation of a $500 million + private equity fund in the pharmaceutical and biotechnology space on multiple investment transactions

Representation of a university endowment in its investments in private equity transactions

Representation of a Fortune 500 company in its alternative investment transactions aggregating $240 million + in private equity funds

Represented mezzanine lenders on over 50 financing transactions with an aggregate value over $500 million

Services
Click HERE to view our Private Equity brochure.
| | |
| --- | --- |
| | Split lien priority financings |
| | Senior secured subordinated debt |
| | |
| | |
| | Warrants and other equity kickers |
| First-out / last-out senior loans | Portfolio company sales and exits |
| | Restructuring, workouts and insolvency |
Events & Webinars
Events
HQ Raleigh | Raleigh, N.C.

,

04.22.2015
2016 Closed Transactions
2016 Closed Transactions
Since January 2016, Smith Anderson has advised clients in more than 300 transactions representing approximately $30 billion in value, including mergers, acquisitions and divestitures; real estate development and construction; life sciences and health care; technology and intellectual property; debt finance; private equity and mezzanine finance; initial public offerings; growth companies and venture capital; and fund formation. The following provides a comprehensive overview of some of our clients' key business transactions in 2016. Highlights include:
Over 60 Mergers, Acquisitions and Public Offerings totaling approximately $22 billion, including the representation of Quintiles in its merger with IMS Health Holdings.
Over 60 Life Sciences and Health Care transactions, including an immuno-oncology partnership worth up to $1.6 billion for genome editing company Precision BioSciences.
Over 70 Debt Finance and more than 50 Private Equity and Mezzanine Finance transactions totaling more than $4 billion.
Over 100 Real Estate and Construction matters totaling more than $2 billion.
Over 60 Technology and Intellectual Property transactions totaling more than $3 billion, including the representation of Southern Company and PowerSecure, Inc. in their strategic alliance with Bloom Energy Corporation.
Our firm is fortunate to have worked on a wide array of transactions with a diverse group of clients. CLICK HERE to expand the image below, which lists some of our clients and their business transactions in 2016.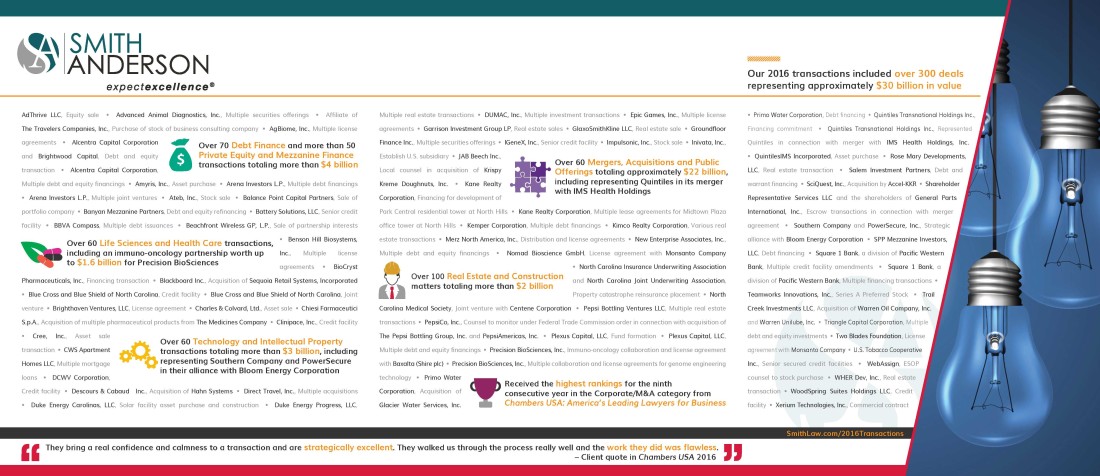 Practice Contact