Practice Contacts
Professionals In This Practice
Mezzanine Finance
For lenders and investors providing mezzanine debt and other types of junior capital, we offer legal services with a distinctive blend of deal experience, expertise and practical counsel. Handling over 100 transactions in the past three years, our lawyers routinely represent mezzanine funds, small business investment companies (SBICs), business development companies (BDCs) and other providers of junior capital. We are creative yet pragmatic in structuring deals, closely attuned to the market and our clients' businesses, and fundamentally solution-oriented. Instead of over-complicating transactions, we take a deal driven approach focused on reasonable market terms to achieve the best and most efficient outcome.
We counsel clients on a wide variety of transactions, including unitranche debt; first-out and last-out senior loans; second lien debt; secured and unsecured subordinated debt; preferred, common and strip equity co-investments; and warrant and other equity kickers. We can assist with portfolio company sales and exits, as well as with restructuring and insolvency matters. Headquartered in Raleigh, North Carolina, our law firm handles investments in a diverse range of industries, such as healthcare, energy, financial services, food and beverage services, education, government contracting, social media, communications, software, information technology, distribution, transportation, construction and manufacturing. Because of our extensive work with sophisticated clients and complex deals across the nation, we maintain an updated perspective of market terms for mezzanine transactions, including debt and equity co-investment structures and subordination and intercreditor terms.
Our Mezzanine Finance practice is supported by attorneys with deep experience in private equity deals, senior secured lending, and mergers and acquisitions. Backed by the strength of a full-service business and litigation law firm, we specialize in integrated deal management with lawyers in our Mergers and Acquisitions, Tax, Employment, Labor and Human Resources, Debt Finance and Bankruptcy, Workouts and Creditors' Rights practices, plus others as needed, for each transaction. We provide thoughtfully tailored counsel, with heavy involvement and oversight by senior lawyers, while offering you significant value. Priding ourselves on the trust and confidence we build with clients, we are fortunate to enjoy relationships that span decades.
Unitranche debt

Last-out senior loans

Second lien debt

Secured and unsecured subordinated debt

Equity co-investments

Warrants and other equity kickers

Portfolio company sales and exits

Restructuring and insolvency
BDC and certain SBIC co-investors in a $37 million secured mezzanine financing and $5 million common and preferred equity co-investment to fund the acquisition of the nation's leading provider of sustainable, environmentally and ethically responsible sweeteners
SBICs in a $13 million secured mezzanine financing and $1.3 million equity co-investment to fund the acquisition of digital media manufacturing company
Private mezzanine fund in a $7.5 million multi-class structured equity investment to refinance existing equity and debt and provide growth capital to a waste management and recycling group of companies
BDC and SBIC in a $25 million unsecured mezzanine financing and $1.2 million equity co-investment to refinance existing debt and fund add on acquisition for food management services group
SBIC and BDC in a refinance of their secured mezzanine position and partial sale/partial rollover of significant minority equity investment in a change of control transaction of leading manufacturer of sewing, sealing, hot air, gluing and bag handling systems
BDC in a $15 million secured mezzanine financing and $1 million equity co-investment to refinance existing debt for energy management company
Private mezzanine fund in restructuring of $14.5 million unsecured mezzanine financing with warrants and equity co-investment to leading electrical systems integrator and custom metal enclosure designer and manufacturer
SBIC in a $10 million mezzanine financing and $1.4 million equity co-investment to fund the acquisition of a provider of housing and equipment rental services to the oil and gas drilling industry
News
March 6, 2017

January 26, 2017

January 4, 2017

November 30, 2016

November 1, 2016

March 11, 2016

November 2, 2015

April 22, 2015

April 16, 2015

January 23, 2015

December 11, 2014

September 18, 2014

June 23, 2014

May 28, 2014

April 25, 2014

March 31, 2014

February 21, 2014

January 30, 2014

March 15, 2013

March 14, 2013

August 29, 2012

March 26, 2012

April 22, 2009
Publications
January 29, 2016

March 30, 2015

www.jobsnc.blogspot.com
Events
April 22, 2015

HQ Raleigh | Raleigh, N.C.
Since January 2016, Smith Anderson has advised clients in more than 300 transactions representing approximately $30 billion in value, including mergers, acquisitions and divestitures; real estate development and construction; life sciences and health care; technology and intellectual property; debt finance; private equity and mezzanine finance; initial public offerings; growth companies and venture capital; and fund formation. The following provides a comprehensive overview of some of our clients' key business transactions in 2016. Highlights include:
Over 60 Mergers, Acquisitions and Public Offerings totaling approximately $22 billion, including the representation of Quintiles in its merger with IMS Health Holdings.
Over 60 Life Sciences and Health Care transactions, including an immuno-oncology partnership worth up to $1.6 billion for genome editing company Precision BioSciences.
Over 70 Debt Finance and more than 50 Private Equity and Mezzanine Finance transactions totaling more than $4 billion.
Over 100 Real Estate and Construction matters totaling more than $2 billion.
Over 60 Technology and Intellectual Property transactions totaling more than $3 billion, including the representation of Southern Company and PowerSecure, Inc. in their strategic alliance with Bloom Energy Corporation.
Our firm is fortunate to have worked on a wide array of transactions with a diverse group of clients. CLICK HERE to expand the image below, which lists some of our clients and their business transactions in 2016.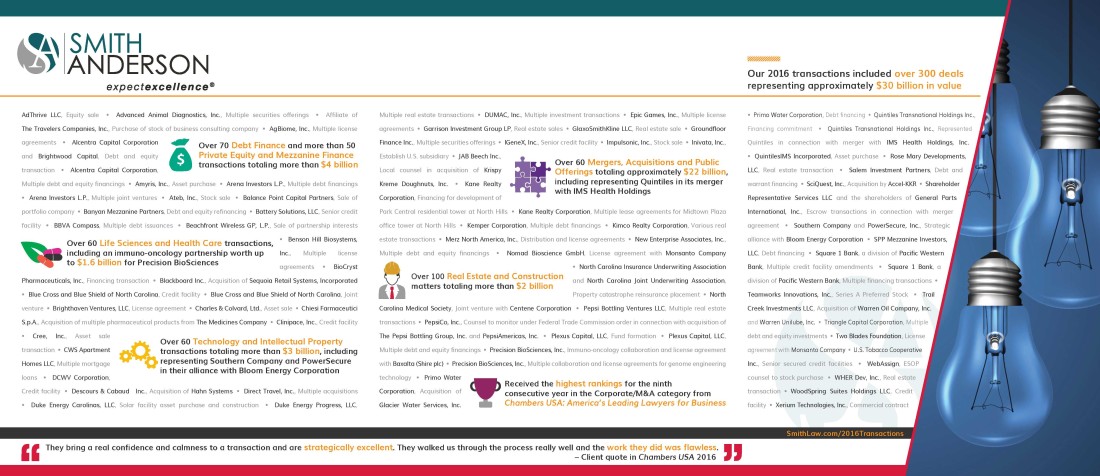 Print PDF