Overview
As one of the foremost corporate law firms in North Carolina, we have a deep roster of accomplished mergers and acquisitions lawyers, with approximately half having come from national and international firms. But we offer far more than technical expertise executing deals; we are distinguished in the value we add through our informed judgment, strategic insight, innovation, creativity and complete commitment to your business success.
The complexity of the issues involved in corporate transactions, and the significant outcomes hanging in the balance, require not only deep knowledge of the law, but also the sophistication to use that knowledge creatively to negotiate solutions that make the most practical business sense. We configure our teams to best suit your needs and are well-equipped to manage such diverse matters as private and public acquisitions of all sizes, leveraged buy-outs, divestitures, joint ventures, strategic alliances, licensing and defensive planning. We guide a wide range of clients at different stages in the business cycle with make-it-or-break-it mergers including start-ups, growing mid-size companies and large corporations. Click HERE to learn more about what strategic buyers can expect in the M&A life-cycle.
Our Mergers and Acquisitions practice is one of only three in North Carolina to be ranked "Band 1" by Chambers USA: America's Leading Lawyers for Business, the highly-regarded publication's best ranking. Additionally, we have more lawyers individually ranked by this publication than any other practice in the State. The Mergers and Acquisitions practice is more than 30-lawyers strong, enabling us to staff each deal with individuals who are hand-picked for the situation. Also on our team are former C-level executives and in-house counsel who add to our perspective and breadth of experience. Our proven expertise and demonstrated ability to seamlessly steer several matters at a time position our firm on par with our national and international competitors, as well as with firms much larger in size. We are proud to help shape the Research Triangle Park as a global marketplace with the characteristic commitment, service and astute capabilities of our firm. Click HERE to view our M&A brochure.
Experience
Highlights of our experience include:
Advised a multinational Fortune 500 provider of product development and integrated healthcare services in its merger with a NYSE-listed global information and technology services company, creating a leading information and tech-enabled healthcare service provider. The equity market capitalization of the joined companies was more than $17.6 billion at closing.
Represented privately held distributor and supplier of original automotive equipment and aftermarket replacement products in its merger with a publicly traded leading provider of automotive aftermarket parts and accessories in a transaction valued at $2.04 billion, making it one of the largest transactions in North Carolina history.
Represented the special committee of a publicly traded bank holding company in connection with its $645 million acquisition of another bank holding company. The transaction was the largest bank holding company merger in the Southeast, and the third largest nationally, in 2014.
Advised a publicly traded supplier of water and water dispensers in an agreement to acquire by merger a publicly traded competitor for $263 million in cash and stock.
Advised the world's largest provider of biopharmaceutical development and commercial outsourcing services in its acquisition of a health-information analytics and technology services company focused on healthcare providers.
Represented a venture capital funded agricultural biotechnology company in its $400 million acquisition by a European based ag-chemical company.
Represented a global solid state LED lighting and semiconductor manufacturing company in its $525 million acquisition of an outdoor LED lighting company.
Represented a publicly traded company and leading provider of end-to-end spend management solutions in its sale of the company to a leading technology-focused private equity firm for approximately $509 million.
Represented a national multimedia advertising company in its $350 million acquisition of an online advertising company.
Represented a public specialty pharmaceutical company in its $150 million acquisition of a private specialty pharmaceutical company.
Click HERE to view our M&A brochure detailing our experience.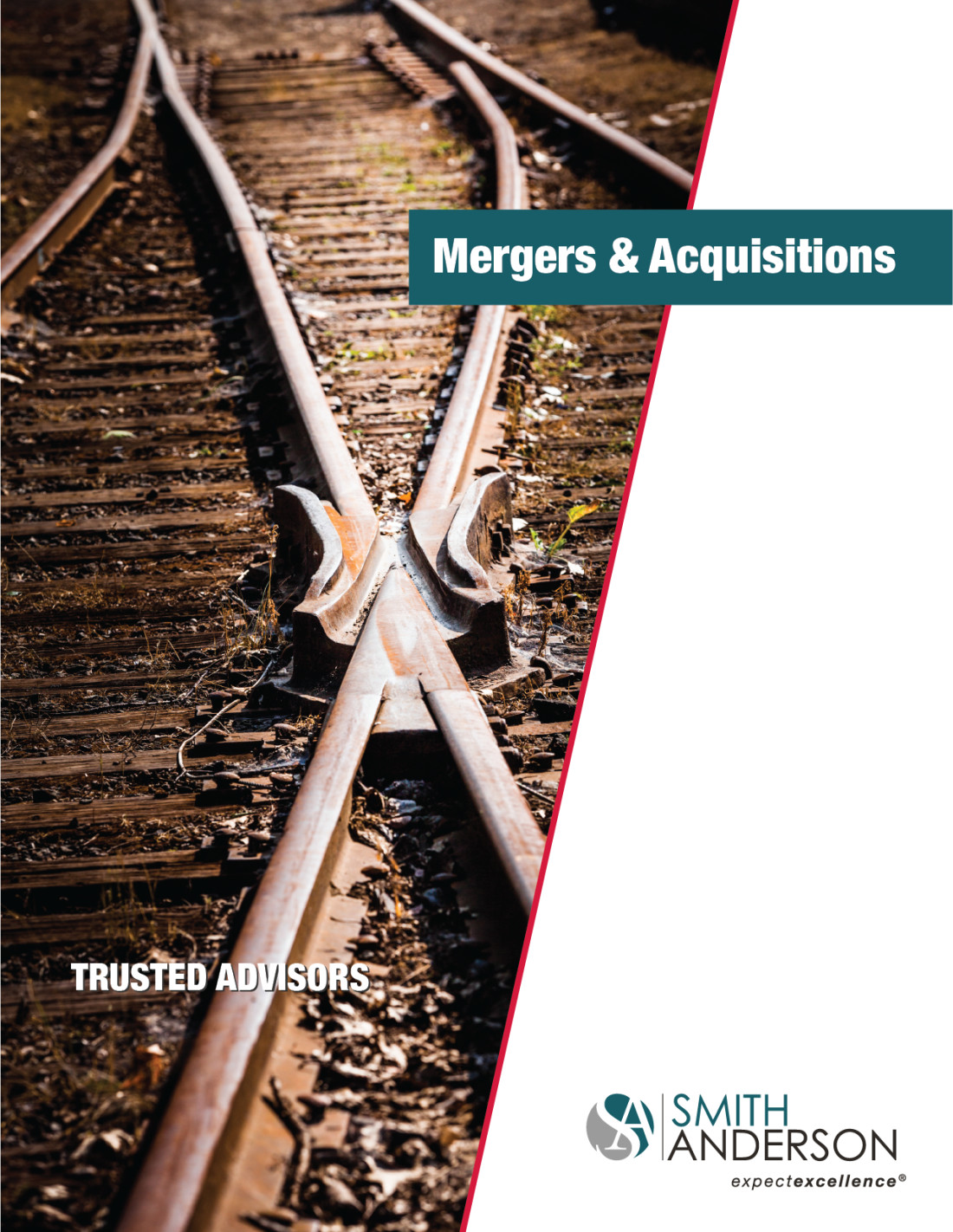 Services
Mergers and acquisitions

Product-line acquisitions and divestitures

Distressed mergers and acquisitions

Leveraged buy-outs

Going-private transactions

Joint ventures

Strategic alliances

Licensing

International issues

Transaction planning and strategy

Compliance with state and local regulatory requirements

Tax, benefits, environmental and other issues
2016 Closed Transactions
2016 Closed Transactions
Since January 2016, Smith Anderson has advised clients in more than 300 transactions representing approximately $30 billion in value, including mergers, acquisitions and divestitures; real estate development and construction; life sciences and health care; technology and intellectual property; debt finance; private equity and mezzanine finance; initial public offerings; growth companies and venture capital; and fund formation. The following provides a comprehensive overview of some of our clients' key business transactions in 2016. Highlights include:
Over 60 Mergers, Acquisitions and Public Offerings totaling approximately $22 billion, including the representation of Quintiles in its merger with IMS Health Holdings.
Over 60 Life Sciences and Health Care transactions, including an immuno-oncology partnership worth up to $1.6 billion for genome editing company Precision BioSciences.
Over 70 Debt Finance and more than 50 Private Equity and Mezzanine Finance transactions totaling more than $4 billion.
Over 100 Real Estate and Construction matters totaling more than $2 billion.
Over 60 Technology and Intellectual Property transactions totaling more than $3 billion, including the representation of Southern Company and PowerSecure, Inc. in their strategic alliance with Bloom Energy Corporation.
Our firm is fortunate to have worked on a wide array of transactions with a diverse group of clients. CLICK HERE to expand the image below, which lists some of our clients and their business transactions in 2016.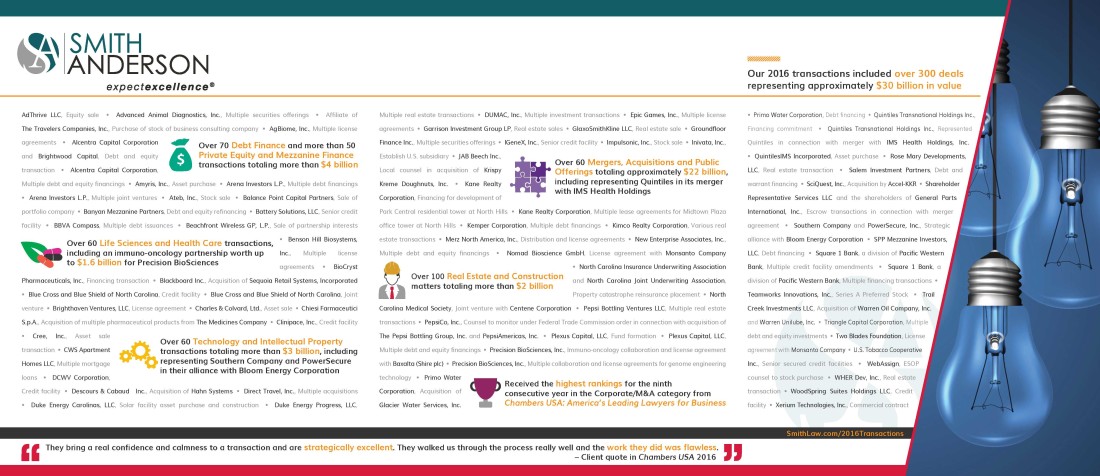 Practice Contacts