Overview
Successful international business transactions require sophisticated legal expertise, first-rate practical advice and cross-cultural sensitivity – all hallmarks of our International Law practice. We represent both domestic companies operating overseas and foreign companies investing here. With deep experience advising clients and structuring win-win international legal agreements, we serve a wide range of businesses and industries with international legal representation.
As the largest business and litigation law firm headquartered in North Carolina's world-renowned Research Triangle Park area, we have many years of international business legal experience working with global clients, seamlessly navigating different legal cultures, helping to structure cross-border transactions and connecting you to the best local international law counsel when needed. If your company is involved in an international deal, you need lawyers with proven experience working across cultural divides and overcoming unique challenges, always with an eye (and an ear) toward helping you meet your business goals. Our dispute resolution and risk management lawyers have experience with managing the complex procedures and logistics of international litigation. Many international clients seek assistance with corporate relocation and expansion, in which we often provide counsel on comparative tax border, state and local financial incentives and site selection. North Carolina's six foreign or free trade zones provide neutral, secured areas legally outside of the U.S. customs territory that offer economic advantages for businesses involved in international trade. Additionally, our seasoned international law lawyers, advise companies on whether they can qualify to be located into the area. We invest the effort to get to know you, your company, your needs and objectives – and then, working side-by-side, can better help you succeed.
As our client, you will find that we provide a caliber of service and expertise on par with national firms, yet with the added value of greater partner-level involvement. We offer the skill, knowledge, experience, commitment and international connections to help your business succeed – a winning combination in any language.
Services
Selecting domestic and foreign business entities

International commercial agreements

Tax planning for international operations

International mergers, acquisitions and divestitures

International litigation

Foreign capital markets transactions

International joint ventures

Export transactions

International credit facilities

Trade finance

Cross-border licensing arrangements

International project finance

Cross-border mergers and acquisitions

Formation of subsidiaries outside of U.S./corporate entities

International litigation

Employment issues

Investments abroad and in U.S.
2016 Closed Transactions
2016 Closed Transactions
Since January 2016, Smith Anderson has advised clients in more than 300 transactions representing approximately $30 billion in value, including mergers, acquisitions and divestitures; real estate development and construction; life sciences and health care; technology and intellectual property; debt finance; private equity and mezzanine finance; initial public offerings; growth companies and venture capital; and fund formation. The following provides a comprehensive overview of some of our clients' key business transactions in 2016. Highlights include:
Over 60 Mergers, Acquisitions and Public Offerings totaling approximately $22 billion, including the representation of Quintiles in its merger with IMS Health Holdings.
Over 60 Life Sciences and Health Care transactions, including an immuno-oncology partnership worth up to $1.6 billion for genome editing company Precision BioSciences.
Over 70 Debt Finance and more than 50 Private Equity and Mezzanine Finance transactions totaling more than $4 billion.
Over 100 Real Estate and Construction matters totaling more than $2 billion.
Over 60 Technology and Intellectual Property transactions totaling more than $3 billion, including the representation of Southern Company and PowerSecure, Inc. in their strategic alliance with Bloom Energy Corporation.
Our firm is fortunate to have worked on a wide array of transactions with a diverse group of clients. CLICK HERE to expand the image below, which lists some of our clients and their business transactions in 2016.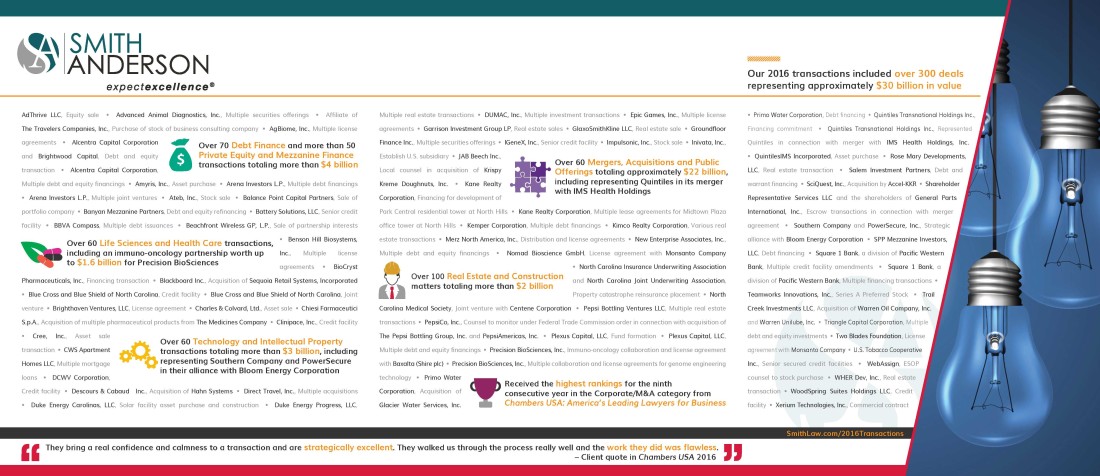 Practice Contact
Professionals