Overview
Smith Anderson's intellectual property lawyers work with you to develop, protect and promote your knowledge, discoveries and innovations. We support our clients engaged in transactions to acquire, sell, finance, support, develop and monetize key intellectual property assets. This includes a variety of transaction arrangements, including mergers and acquisitions, strategic licensing and technology transfer, partnering and alliances, sponsored research, financing and manufacturing/sourcing arrangements. We also help clients to build and protect their brands through strategic development, maintenance and enforcement of trademark and service mark portfolios. We regularly assist clients with complex information privacy and data security issues, including breach notice and incident response. We also work with clients to resolve intellectual property-related disputes, such as patent and trade secret litigation, trademark litigation and oppositions, copyright litigation, licensing disputes and internet disputes.
Our intellectual property clients range from publicly-traded companies and well-established privately-held businesses to start-ups, emerging companies and university spin-outs. We provide intellectual property services to clients in a wide array of industries, including: life sciences, software, health care, pharmaceuticals, video games, electronics, banking, building materials, e-commerce, industrial machinery and consumer goods. As a full-service firm, we also advise our clients on labor and employment matters, employee benefits, tax strategies, governmental relations, real estate and other business-related matters.
Experience
Patent Litigation
Representation of one of the world's largest agricultural companies in litigation against a group of growers engaged in unlicensed and improper use of genetically-modified soybean seed technology. Shortly after filing suit, we obtained a preliminary injunction prohibiting the growers from planting, selling or transferring the subject seed. As part of a confidential resolution of the dispute, we obtained a permanent injunction enjoining all unlicensed use of our client's seed technologies.
Counsel for an emerging developer of genome editing technology in patent infringement litigation against a competitor. Through a confidential negotiated resolution of disputes between the parties worldwide, we helped our client to accelerate development of its ground-breaking technology, which recently won the client an immuno-oncology partnership worth up to $1.6 billion.
Representation of a group of companies against patent infringement claims asserted by a competitor concerning pipe coupling technology.
Defense of a seller of ADA-compliant tactile warning systems against patent infringement claims by a competitor.
Counsel for a specialty pharmaceutical company in several patent infringement actions arising from competitors' attempted launches of generic versions of non-Orange Book products.
Defended a manufacturer of industrial insulation products against patent infringement claims and trade secret misappropriation claims asserted by a competitor. Our work resulted in a negotiated resolution that terminated litigation between the parties in the United States and Europe.
Representation of a developer of emergency response network systems in patent litigation initiated by a non-practicing entity.
Co-counsel providing strategic advice in North Carolina patent litigation matters involving 4G LTE smartphone technology, online ticketing, computer hardware, telecommunications networking technology and textiles.
Co-counsel providing strategic advice in Hatch-Waxman litigation in North Carolina.
Trademark and Advertising Litigation
Lead counsel protecting the trademark portfolio for a world-renowned golf resort, a three-time winner of Travel + Golf Magazine's Best Golf Resort in America award and three-time host of the U.S. Open golf tournament.
Defense of a leading online retailer of fine art and posters in trademark and publicity rights matters.
Defense of a national sports television network against trademark infringement claims relating to a made-for-television film.
Defense of the operator of a university dining establishment against claims for trademark infringement and misappropriation of trade secrets.
Representation of a major agricultural products company in a proceeding before the Better Business Bureau's National Advertising Division challenging the company's advertising for a lawn care product.
Defense of a leading online provider of real estate marketing services against trademark infringement claims by a magazine publisher.
Representation of a large convenience store chain against claims in trade dress litigation concerning fast food décor.
Representation of multiple clients in trademark opposition and cancellation proceedings before the Trademark Trial and Appeal Board.
Copyright Litigation
Defended a leading online retailer of fine art and posters against copyright infringement claims asserted by a major photography licensing company.
Obtained a favorable settlement for two university researchers on copyright infringement claims against a university spin-out company formed to commercialize the researchers' anti-stuttering technology
Defended a developer of video game software against copyright infringement claims asserted by a former licensor.
Defended a video game developer against copyright infringement claims concerning game artwork.
IP Related Litigation
Represented a major research institute in litigation concerning ownership of intellectual property created in connection with consulting services.
Defended a leading developer of interactive voice response technology against customer action for indemnification against an intellectual property infringement claim.
Represented a public pharmaceutical company in litigation arising from its acquisition of a pharmaceutical product line.
Represented a leading pharmaceutical company in arbitrations arising from licensing disputes.
Represented inventor and licensor of wood cutting technology in dispute with licensee.
Services
Licensing and technology transfer
Mergers and acquisitions
Research, development and commercialization collaborations
Partnering, strategic alliance and joint venture arrangements
Product and intellectual property acquisitions and divestitures
Information privacy and security matters, including policies and procedures, breach notice and incident response, investigations and corporate transactions
Trademark and service mark matters, including strategic portfolio development, prosecution, maintenance, licensing and enforcement
Strategic patent enforcement programs
Patent, trademark and copyright infringement litigation
Trade secret disputes
Advertising, unfair competition and social media disputes
Events & Webinars
Events
The Umstead (Ballroom 1): 100 Woodland Pond Drive, Cary, N.C. 27513

,

06.2013
2016 Closed Transactions
2016 Closed Transactions
Since January 2016, Smith Anderson has advised clients in more than 300 transactions representing approximately $30 billion in value, including mergers, acquisitions and divestitures; real estate development and construction; life sciences and health care; technology and intellectual property; debt finance; private equity and mezzanine finance; initial public offerings; growth companies and venture capital; and fund formation. The following provides a comprehensive overview of some of our clients' key business transactions in 2016. Highlights include:
Over 60 Mergers, Acquisitions and Public Offerings totaling approximately $22 billion, including the representation of Quintiles in its merger with IMS Health Holdings.
Over 60 Life Sciences and Health Care transactions, including an immuno-oncology partnership worth up to $1.6 billion for genome editing company Precision BioSciences.
Over 70 Debt Finance and more than 50 Private Equity and Mezzanine Finance transactions totaling more than $4 billion.
Over 100 Real Estate and Construction matters totaling more than $2 billion.
Over 60 Technology and Intellectual Property transactions totaling more than $3 billion, including the representation of Southern Company and PowerSecure, Inc. in their strategic alliance with Bloom Energy Corporation.
Our firm is fortunate to have worked on a wide array of transactions with a diverse group of clients. CLICK HERE to expand the image below, which lists some of our clients and their business transactions in 2016.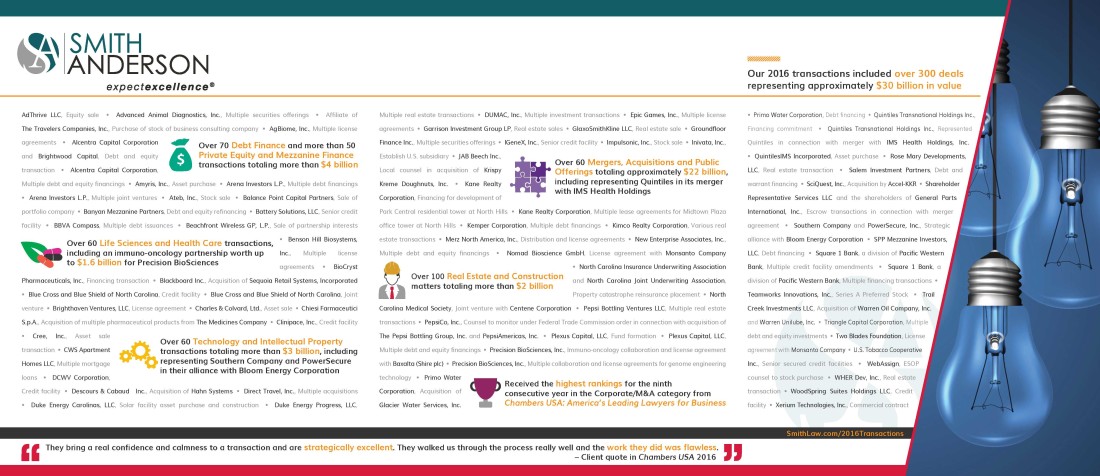 Practice Contact