Overview
Smith Anderson's intellectual property lawyers work with businesses to develop, protect and promote their knowledge, discoveries and innovations. Our attorneys support their clients engaged in transactions to acquire, sell, finance, support, develop, and monetize key intellectual property assets. This includes a variety of transaction arrangements, including mergers and acquisitions, strategic licensing and technology transfer, partnering and alliances, sponsored research, financing and manufacturing/sourcing arrangements. We also help clients to build and protect their brands through strategic development, maintenance and enforcement of trademark and service mark portfolios. We regularly assist clients with complex information privacy and data security issues, including breach notice and incident response. We also work with clients to resolve intellectual property-related disputes, such as patent and trade secret litigation, trademark litigation and oppositions, copyright litigation, licensing disputes and internet disputes.
Our intellectual property clients range from publicly-traded companies and well-established privately-held businesses to start-ups, emerging companies and university spin outs. We provide intellectual property services to clients in a wide array of industries, including: life sciences, software, health care, pharmaceuticals, video games, electronics, banking, building materials, e-commerce, industrial machinery, and consumer goods. As a full-service firm, we also advise our clients on labor and employment matters, employee benefits, tax strategies, governmental relations, real estate and other business-related matters.
Representative Transactions
Represented a global solid state LED lighting and semiconductor manufacturing company in connection with its $850 million sale of a manufacturing division.
Advised a leading video game company in the sale of a game franchise to a global computer software company and assisted in the development of an innovative licensing model for the client's video game development software.
Prepared a negotiation "toolkit" establishing contracting parameters and fallback positions to allocate and address intellectual property and data-related risks in a global technology company's software-as-a-service and data hosting arrangements.
Assisted a leading corporate travel management firm in the U.S. with drafting and negotiation of a services agreement with a creative consulting firm for a brand identity refresh and related website redesign and development services.
Representation of a leading provider of wireless transmission systems in its divestiture of an integrated communications network management software platform and related assets to a network management software company.
Assisted an e-commerce vendor in developing terms of use, privacy policy and consignment and sale agreements for use in an online business.
Represented a leading fuel pump supplier in establishing a technology, sales and service partnership with a leading payment system supplier to develop next-generation payment and media technologies for the retail petroleum industry.
Conducted training sessions for the legal department of one of the world's largest software and technology service providers, providing negotiation and risk allocation strategies for the company's technology license and services arrangements, covering complex indemnity provisions, license provisions and related risk allocation issues.
Lead counsel to a venture capital-funded genome editing company in a worldwide partnership, worth up to $1.6 billion, including an upfront payment of $105 million, with a global, publicly-traded pharmaceutical company to develop and commercialize allogeneic chimeric antigen receptor (CAR) T cell therapies for multiple cancers. The transaction was awarded the 2016 Life Science sector Deals of Distinction™ award by the Licensing Executives Society.
Represented an international health care group and its U.S. specialty pharmaceutical company subsidiary in obtaining multinational license rights to three cardiovascular drugs from a large public pharmaceutical company for $264 million in cash at closing, up to $480 million in milestone and royalty payments, and the assumption of up to $50 million in milestone payment obligations.
Over 100 AgTech research, development, license and collaboration agreements, totaling in excess of $550 million in cumulative value plus royalties, including over 30 transactions involving five of the six largest agriculture companies in the world.
Represented a venture capital-funded biotechnology company that uses the plant-associated microbiome to create innovative agricultural products in an R&D collaboration with a leading global agricultural biotechnology company for discovery, development and commercialization of crop trait products.
Represented a leading genome editing company in over a dozen research, collaboration, licensing and development agreements ranging from human therapeutics to row plant crop applications and specialty plant crop applications.
Represented university spin-outs in licensing foundational technology from universities such as Harvard University/Massachusetts General Hospital, Columbia University, Duke University, Johns Hopkins University, University of California at San Francisco, Duquesne University, University of North Carolina at Chapel Hill, North Carolina State University, East Carolina University, Dartmouth College, University of Pennsylvania, University of Virginia and Virginia Tech
Dozens of worldwide and territory-specific pharmaceutical, biologic and medical device research, development, license, collaboration and acquisition agreements, for therapeutic areas ranging from immuno-oncology to CNS disorders, dermatology, ophthalmology, cardiovascular, rare disease, oncology, vaccines, and others.
Services
Licensing and technology transfer
Mergers and acquisitions
Research, development and commercialization collaborations
Partnering, strategic alliance and joint venture arrangements
Product and intellectual property acquisitions and divestitures
Information privacy and security matters, including policies and procedures, breach notice and incident response, investigations and corporate transactions
Trademark and service mark matters, including strategic portfolio development, prosecution, maintenance, licensing and enforcement
Strategic patent enforcement programs
Patent, trademark and copyright infringement litigation
Trade secret disputes
Advertising, unfair competition and social media disputes
Events & Webinars
Events
The Umstead (Ballroom 1): 100 Woodland Pond Drive, Cary, N.C. 27513

,

06.2013
2016 Closed Transactions
2016 Closed Transactions
Since January 2016, Smith Anderson has advised clients in more than 300 transactions representing approximately $30 billion in value, including mergers, acquisitions and divestitures; real estate development and construction; life sciences and health care; technology and intellectual property; debt finance; private equity and mezzanine finance; initial public offerings; growth companies and venture capital; and fund formation. The following provides a comprehensive overview of some of our clients' key business transactions in 2016. Highlights include:
Over 60 Mergers, Acquisitions and Public Offerings totaling approximately $22 billion, including the representation of Quintiles in its merger with IMS Health Holdings.
Over 60 Life Sciences and Health Care transactions, including an immuno-oncology partnership worth up to $1.6 billion for genome editing company Precision BioSciences.
Over 70 Debt Finance and more than 50 Private Equity and Mezzanine Finance transactions totaling more than $4 billion.
Over 100 Real Estate and Construction matters totaling more than $2 billion.
Over 60 Technology and Intellectual Property transactions totaling more than $3 billion, including the representation of Southern Company and PowerSecure, Inc. in their strategic alliance with Bloom Energy Corporation.
Our firm is fortunate to have worked on a wide array of transactions with a diverse group of clients. CLICK HERE to expand the image below, which lists some of our clients and their business transactions in 2016.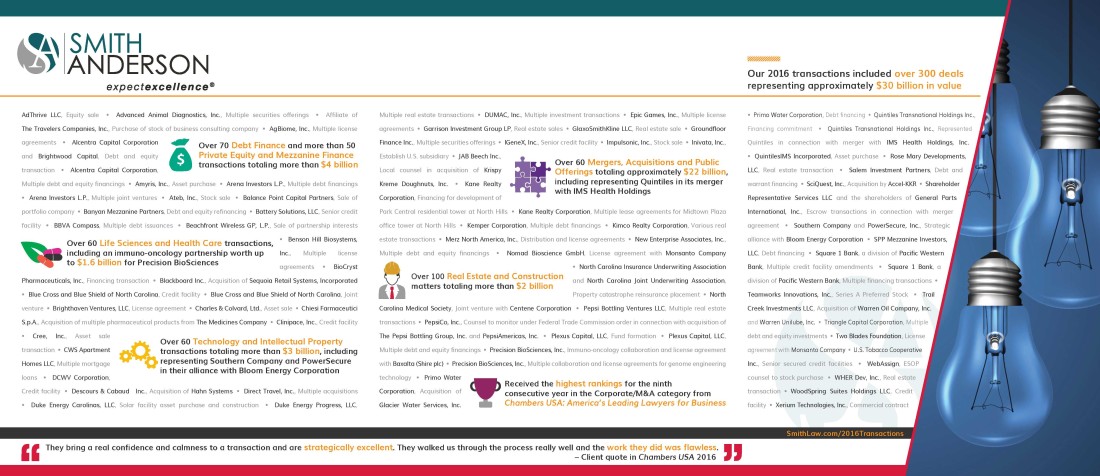 Practice Contacts
Professionals