Overview
Our Information Technology (IT) lawyers are knowledgeable and pragmatic advisors on operational, financial and regulatory matters in the ever-evolving IT landscape. For IT supplier businesses, attorneys in our practice have extensive experience helping those companies as they develop, commercialize and protect their products and services. For businesses seeking to obtain mission critical IT, our team assists those companies across various industries in the adoption of IT infrastructure and services to execute and improve business operations.
We advise our vendor clients through every stage
of the company life cycle, with an emphasis on building and protecting company value based on intellectual property assets. We help vendors with strategic business model analysis, technology development (alone or in conjunction with collaboration partner companies), intellectual property protection, technology collaborations and commercial transactions. We help our vendor clients sell their products and services to customers using traditional licensing models as well as Software as a Service (SaaS), Platform as a Service (PaaS), and similar "as a Service" cloud computing models. Our team also has broad experience with distributor, reseller and sales representation arrangements, and strategic acquisitions and divestitures of IT assets through licensing arrangements or M&A transactions.
As the largest business and litigation law firm headquartered in the world renowned Research Triangle region of North Carolina, our IT attorneys have the flexibility to draw on our firm's substantial depth of legal offerings when needed to assist our clients in other areas. We frequently assist clients seeking to improve business execution by procuring assets or services from IT vendors with traditional licensing models as well as with cloud-based service models. While cloud-based service models are popular for their advantageous initial cost, utility billing and scalability, we help our clients understand, mitigate and appropriately allocate risks inherent in the cloud, such as: system outages, performance problems, data loss or corruption, exit rights, migration support and the risks arising from the collection and remote storage of trade secret, competitively sensitive and personally identifiable information.
Our lawyers have significant experience drafting and negotiating agreements for information technology-related services to reduce disputes between customers and vendors related to scope, quality and cost of services. Our work at the intersection of intellectual property, technology and data use, privacy and security, coupled with learning our clients' businesses, equips us to serve as trusted advisors for facilitating our clients' strategic business objectives and related compliance with numerous laws and regulations governing advertising, copyright, trademark, data privacy, consumer rights, data security and online contracting.
Experience
Served as outside general counsel to Hadoop-based technology platform vendor, developing out-licensing models and contracts, reseller and distribution agreements, and providing strategic intellectual property counseling related to proprietary and open source software platforms and related services for "big data" analytics
Advised a leading video game company in the sale of a game franchise to a global computer software company and assisted in the development of an innovative licensing model for the client's video game development software
Served as lead counsel for an accountable care organization (ACO) to model and operationalize a health information exchange accessible by thousands of healthcare stakeholders, including health systems and laboratories
Represented a public telecommunications company in a global R&D outsourcing arrangement for the development of several telecommunications technology product lines and the provision of related services and provided related strategic counseling on IP development and ownership issues
Served as lead counsel for a publicly-traded health information technology company in several mission-critical outsourcing arrangements to enhance its technology infrastructure and market offerings
Prepared a negotiation "toolkit" establishing contracting parameters and fallback positions to allocate and address intellectual property and data-related risks in a global technology company's software-as-a-service and data hosting arrangements
Represented a publicly-traded diagnostic services provider on cloud computing transactions and counseling matters, including an arrangement with a Fortune 100 technology company to license and implement technology infrastructure enabling cloud-based exchange of large volumes of sensitive information
Represented a global provider of biopharmaceutical development services and commercial outsourcing services in a multi-million dollar transaction to exclusively license a database of de-identified health information and to acquire related assets; provided strategic counseling for resulting business model to commercialize data analytics products and services
Represented a software development and data analytics company in collaborative development agreements related to platform software solutions and licensing of algorithm and data processing technologies for the agriculture industry
Represented a leading fuel pump supplier in establishing a technology, sales and service partnership with a leading payment system supplier to develop next-generation payment and media technologies for the retail petroleum industry
Represented a leading provider of wireless transmission systems in its divestiture of an integrated communications network management software platform and related assets to a network management software company
Structured online business models involving e-commerce, data collection and use, and development of online privacy statements, terms of use, and electronic contracting tailored to such models
Assisted a leading bioanalytical company in drafting and negotiation of a $460,000 license of laboratory information management system software to support clinical trials
Assisted a leading public building supply distributor regarding replacement of its paper-based contracts with an electronic contracting platform enforceable under the Electronic Signatures in Global and National Commerce Act and the Uniform Electronic Transactions Act
Represented a leading private company provider of pharmaceutical product access support services in its acquisition by a private equity fund in a $206 million reverse triangular merger
Assisted a leading corporate travel management firm in the U.S. with drafting and negotiation of a services agreement with a creative consulting firm for a brand identity refresh and related website redesign and development services
Assisted a leading bioanalytical company in drafting a form of data access agreement for use in making protected healthcare information available through an Internet portal to firms authorized by patients to access such information
Assisted an e-commerce vendor in developing terms of use, privacy policy and consignment and sale agreements for use in an online business
Represented a leading provider of information management and data migration services in the negotiation and preparation of a collaboration and distribution agreement with a leading vendor of enterprise content management software, involving the combination of technologies to establish a best-of-breed offering that manages and migrates large volumes of data across an enterprise
Conducted training sessions for the legal department of one of the world's largest software and technology service providers, providing negotiation and risk allocation strategies for the company's technology license and services arrangements, covering complex indemnity provisions, license provisions and related risk allocation issues
Served as lead counsel of a global services organization in a multi-million dollar transaction for the exclusive license of de-identified data assets for use in a particular market, the development of technology assets, and the acquisition of a data analytics team; provided strategic business model analysis for the commercialization of data analytics products and services
Services
Counseling regarding purchase, sale, licensing, development and protection of IT products and services
Software licenses, maintenance agreements and source code escrow agreements for mission critical IT projects for both IT vendors and their customers
SaaS, PaaS, Hosting as a Service (HaaS) and Infrastructure as a Service (IaaS) subscription agreements, Service Level Agreements and other IT outsourcing agreements
Distribution agreements (distributors, VAR, OEM, strategic alliances, certified partner, referral, sales agency or representation arrangements)
Internet and e-commerce-related agreements (website terms of use, privacy policies, electronic contracting)
Supply agreements for IT equipment and computer hardware
Counseling regarding use of, and licenses applicable to, open source software
Structuring and negotiations for IT strategic alliances, collaborations and joint ventures
Development of form agreements for sale of IT products and services to customers
Mobile application development and distribution agreements
Content licensing and information services and technology
Business model analysis and strategy for data-driven IT operations
Data access, exchange, licensing, management, processing and warehousing
Joint development, sponsored and/or university research agreements
Professional services agreements for technology development, implementation and integration services
Services agreements for website development, redesign and brand refreshment
2016 Closed Transactions
2016 Closed Transactions
Since January 2016, Smith Anderson has advised clients in more than 300 transactions representing approximately $30 billion in value, including mergers, acquisitions and divestitures; real estate development and construction; life sciences and health care; technology and intellectual property; debt finance; private equity and mezzanine finance; initial public offerings; growth companies and venture capital; and fund formation. The following provides a comprehensive overview of some of our clients' key business transactions in 2016. Highlights include:
Over 60 Mergers, Acquisitions and Public Offerings totaling approximately $22 billion, including the representation of Quintiles in its merger with IMS Health Holdings.
Over 60 Life Sciences and Health Care transactions, including an immuno-oncology partnership worth up to $1.6 billion for genome editing company Precision BioSciences.
Over 70 Debt Finance and more than 50 Private Equity and Mezzanine Finance transactions totaling more than $4 billion.
Over 100 Real Estate and Construction matters totaling more than $2 billion.
Over 60 Technology and Intellectual Property transactions totaling more than $3 billion, including the representation of Southern Company and PowerSecure, Inc. in their strategic alliance with Bloom Energy Corporation.
Our firm is fortunate to have worked on a wide array of transactions with a diverse group of clients. CLICK HERE to expand the image below, which lists some of our clients and their business transactions in 2016.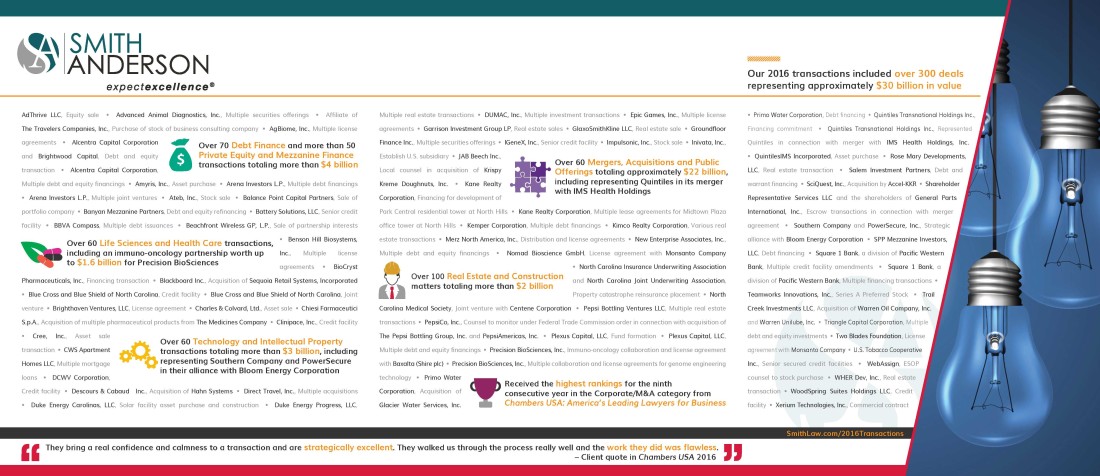 Practice Contact
Professionals