Overview
American health care is undergoing an unprecedented transformation, and our lawyers endeavor to counsel medical professionals thoughtfully through the attendant changes. Just as physicians demystify health issues for their patients, our experienced health care law attorneys seek to untangle the complex web of regulatory, business and litigation risks confronting health care professionals and institutional clients. The health care services our firm provides range from contracting, to regulatory compliance, to medical practice mergers. We counsel clients regarding value based payment and population health strategies, including ACOs, bundled payment and clinically integrated networks. We also advise clients on health care policy, legislative advocacy, executive strategy, litigation and the complex business requirements of organized medicine.
Our Health Care practice has a history of counseling physicians, health care facilities and organizations and we have been involved in launching such health care delivery initiatives as Community Care of North Carolina and ACOs across America. Bo Bobbitt, lead lawyer of our firm's Health Care practice, is credited nationally for authoring the blueprint for establishing ACOs, "The ACO Guide: How to Identify and Implement the Essential Elements for Accountable Care Organization Success," from which health care providers and medical communities are developing accountable care networks.
Since 2011, "Best Law Firms," a joint annual ranking by U.S. News & World Report and Best Lawyers®, has awarded our Health Care practice with its highest metropolitan Tier 1 ranking. Additionally, Bo has been featured in The Best Lawyers in America© for Health Care Law every year since 1997 and named "Lawyer of the Year" in Raleigh for Health Care Law (2013).
From our headquarters in Raleigh, North Carolina, our firm provides a wide range of health care legal services and we also offer experienced counsel in such related areas as Medical Malpractice Defense, Tax, Securities and Commercial Real Estate. We work closely with you to create solutions that allow you to focus on fulfilling your mission of caring for patients. CLICK HERE to view a full list of our business and litigation practices.
Services
Exclusive contracting
Certificates of Need
Medicare and Medicaid compliance
Medicare and Medicaid fraud and abuse defense
HIPAA and other federal and state confidentiality and privacy laws
Managed care contracting, regulation and dispute resolution
Business and contract dispute resolution and litigation
Resolution of regulatory issues and administrative litigation
Antitrust
Electronic Health Record implementation and related services
Provider organizations
Health care mergers and acquisitions, including practice buy-ins and buy-outs
Practice and business entity formation
Medical staff issues
Employment issues, including covenants not to compete
Professional association representation
Representation before licensing boards
Strategic general counsel services for ACOs and other value-based reimbursement initiatives
News & Publications
Publications
02.01.2017

Published by Family Practice News and Internal Medicine News

08.02.2016

Published by Family Practice News and Internal Medicine News

05.12.2016

Published by Family Practice News and Internal Medicine News

05.02.2016

Published by the Texas Medical Association, Volume I

10.26.2015

Health Plan Week

06.2015

Prognosis (Health Law Section of the North Carolina Bar Association and the North Carolina Society of Healthcare Attorneys)

2015

The ACO Handbook: A Guide to Accountable Care Organizations, Second Edition

09.2014

Accountable Care News

09.2014

The Cutting Edge

07.01.2014

Internal Medicine News

03.24.2014

Internal Medicine News

02.21.2014

Internal Medicine News

01.21.2014

Internal Medicine News

09.04.2013

07.03.2013

Internal Medicine News

04.05.2013

04.05.2013

Internal Medicine News

02.28.2013

10.17.2012

Internal Medicine News
2016 Closed Transactions
2016 Closed Transactions
Since January 2016, Smith Anderson has advised clients in more than 300 transactions representing approximately $30 billion in value, including mergers, acquisitions and divestitures; real estate development and construction; life sciences and health care; technology and intellectual property; debt finance; private equity and mezzanine finance; initial public offerings; growth companies and venture capital; and fund formation. The following provides a comprehensive overview of some of our clients' key business transactions in 2016. Highlights include:
Over 60 Mergers, Acquisitions and Public Offerings totaling approximately $22 billion, including the representation of Quintiles in its merger with IMS Health Holdings.
Over 60 Life Sciences and Health Care transactions, including an immuno-oncology partnership worth up to $1.6 billion for genome editing company Precision BioSciences.
Over 70 Debt Finance and more than 50 Private Equity and Mezzanine Finance transactions totaling more than $4 billion.
Over 100 Real Estate and Construction matters totaling more than $2 billion.
Over 60 Technology and Intellectual Property transactions totaling more than $3 billion, including the representation of Southern Company and PowerSecure, Inc. in their strategic alliance with Bloom Energy Corporation.
Our firm is fortunate to have worked on a wide array of transactions with a diverse group of clients. CLICK HERE to expand the image below, which lists some of our clients and their business transactions in 2016.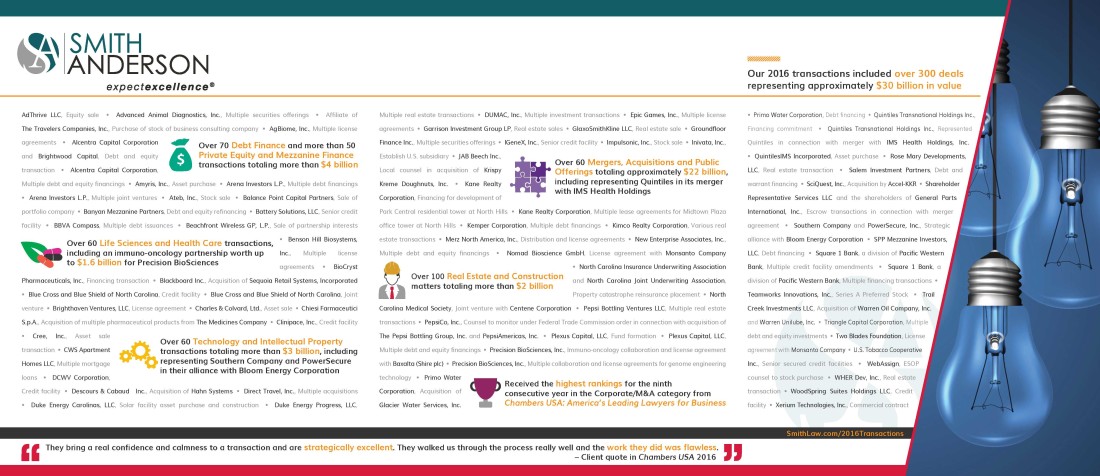 Practice Contact
Professionals