Practice Contacts
Professionals In This Practice
Environmental and OSHA
The maze of ever-changing environmental and OSHA regulations is increasingly challenging and requires experienced legal advisors. The management of these complex demands is critical to businesses because of the direct impact on their operations, finances, personnel and sustainability. Our team of environmental and OSHA lawyers is comprised of attorneys who have practiced at some of the nation's largest law firms and have worked at regulatory agencies, including the North Carolina Department of Justice (DOJ) and the North Carolina Department of Environment and Natural Resources (NCDENR). This group of experienced attorneys has a keen grasp on the law, with an insider's perspective of the process and strong relationships with state and federal regulators.
Chambers USA recognized Smith Anderson's Environmental and OSHA practice and its two head Partners as among the best in North Carolina. In its 2014 edition, Chambers quotes a client of the practice as saying, "The lawyers just seem to know how to talk the language of both the businesses and the state regulators, and they are very effective at translating the business needs for the regulators, and vice versa". (Chambers USA 2014) In "Best Law Firms" 2014, a joint ranking by U.S. News & World Report and Best Lawyers®, this practice was awarded with the highest metropolitan ranking.
As the largest law firm headquartered in our State's capital, Raleigh, our Firm has rich government and regulatory experience coupled with deep transactional and litigation expertise. We call upon our Government Relations team to assist with legislative and rulemaking matters. We quickly and effectively analyze complex regulatory issues, develop compliance and alternative risk-management strategies, and craft creative, practical solutions. Not only are we focused on achieving immediate goals in a cost-effective manner, but we also counsel our clients on avoiding costly regulatory problems in the long run.
Our clients include large and medium-size businesses across North Carolina and throughout the Southeast, representing a diverse list of industries. We are a full-service business and litigation law firm and provide legal counsel in such related areas as Construction, Real Estate Development, Energy and Renewable Energy, Commercial Contracts, Employment, Labor and Human Resources, and Government Relations. CLICK HERE to see our full list of practice areas.
Due diligence investigations and compliance audits
Real estate and business transactions, including contractual allocation of environmental risks and liabilities
Enforcement action defense, including citations and civil penalty assessments
Whistleblower defense and risk mitigation
Internal investigations and crisis management due to workplace fatalities, industrial accidents, chemical and petroleum product spills, and worker safety complaints
Environmental and administrative litigation, including Superfund, RCRA, insurance coverage disputes and toxic torts
Petroleum marketing and convenience store industry issues, including underground storage tank compliance and State Trust Fund eligibility
Permitting, approvals and regulatory clarifications
NPDES, Section 404/401 and storm water permitting; construction and development involving water rights, wetlands, streams, riparian buffers, shorelines and erosion control
Air quality, including indoor air quality and mold issues, as well as mining and dam safety
OSHA compliance, including hazard communication, confined space entry, lockout/tagout, fall protection, personal protective equipment (PPE), recordkeeping and process safety management
Brownfields redevelopment, site remediation and transfers of contaminated property and assets
Legislative and agency advocacy before N.C. General Assembly, NCDENR, NCDOL-Occupational Safety and Health Division and various administrative boards
Monitor and analyze legislation for our clients, network with legislators and agency regulators, and participate in government meetings and hearings
Renewable energy and sustainability disclosure analysis and contract regulations
Representation of an international soft drink company in connection with acquisitions, environmental and OSHA compliance, and enforcement defense actions across the United States
Representation of national waste management companies in connection with permitting, landfill siting and regulatory approvals in North Carolina
Representation of one of the nation's largest convenience store chains in connection with acquisitions, enforcement defense, permitting and private party settlements throughout 13 states
Representation of the nation's largest electric utility in its acquisition and construction of three utility-scale solar power generating facilities
Local environmental counsel for Fortune 1000 company that owns and operates large scale waste-to-energy facilities
Representation of national pharmaceutical company in connection with defense of one of the single largest OSHA enforcement actions ever brought by the NCDOL-OSH Division; also defended personal injury actions filed by more than 50 individuals alleging exposure to toxic chemicals arising from the same events
Representation of international pharmaceutical company in connection with state and federal air quality permitting and approval requirements
Representation of national trucking companies in connection with site remediation, OSHA compliance and defense and acquisition matters
Representation of national food and snack manufacturers in connection with site remediation, enforcement defense and air quality/risk management plan compliance
Representation of international and national paper product companies in connection with RCRA permitting, site remediation, TSCA reporting, water quality permitting and OSHA compliance matters in North Carolina
Representation of insurance carrier and its insured, a private water company, in a drinking water contamination lawsuit brought by 30 homeowners in North Carolina
Representation of real estate investment company before the N.C. Environmental Management Commission (EMC) in its successful intervention of opposition to a declaratory ruling request involving the corrected delineation of the Jordan Lake watershed critical area
Representation of a national pickle manufacturer before EMC in successful renewal of water quality variance and NPDES permit
Representation of clients in connection with all major North Carolina environmental, health and safety programs, including the Clean Air, Clean Water, and Solid and Hazardous Waste Programs; Groundwater and Aquifer Protection Programs; Stormwater and Wetlands Programs; Endangered Species; Superfund; OSHA; Asbestos; Mining and Sedimentation Control; Pollution Prevention; and Renewable Energy
Legislative and regulatory advocacy in connection with numerous North Carolina environmental statutory programs and agency initiatives, including landfill permitting, Brownfields, dry cleaner and UST Trust Fund issues, and hazardous waste permitting matters
Preparation of climate change disclosures for public company client in SEC filings
Representation of the North Carolina Department of Environment and Natural Resources (NCDENR) as Assistant Attorneys General and have personal regulatory experience with virtually all state and federal environmental programs in effect in North Carolina
News
August 17, 2015

June 2, 2015

May 29, 2015

April 22, 2015

April 14, 2015

February 9, 2015

November 5, 2014

August 22, 2014

August 18, 2014

May 28, 2014

April 11, 2014

December 16, 2013

November 1, 2013

October 4, 2013

August 15, 2013

July 2, 2013

May 24, 2013

February 6, 2013

August 29, 2012

January 5, 2012

September 30, 2011

May 10, 2011

May 5, 2011

August 24, 2010

May 6, 2010

May 6, 2010

March 17, 2010

January 29, 2010

November 16, 2009

April 24, 2009

April 1, 2009

March 26, 2009

March 19, 2009
Publications
September 21, 2015

August 20, 2015

June 19, 2015

June 8, 2015

Publication: Material Handling & Logistics (MH&L)

May 7, 2015

April 23, 2015

Construction Executive

December 12, 2014

November 20, 2014

August 28, 2014

July 29, 2014

May 14, 2014

November 14, 2013

Business North Carolina, 2011 Law Journal

May 5, 2011

"2010 North Carolina Construction Law Deskbook," Environmental Law Chapter

North Carolina MGM News, August 2010, Vol. 21, No. 3

November 16, 2007

June 11, 2007

Creatures as Creative

2006

Environmental Ethics

August 9, 2006

Author, "Unwritten Title Transfers" and "Water Boundaries: What Are Your Rights and Liabilities?"

October 17, 2002

Boundary Law in North Carolina, National Business Institute

May 16, 2002
The following provides a comprehensive overview of our closed business clients' transactions from January 2014 to January 2015. Our 2014 transactions included sophisticated debt and equity financings; fund formations; mergers, acquisitions and divestitures; private offerings; IPOs; intellectual property; real estate, construction, zoning and land use; gaming; health care; and insurance. Some highlights include:
Over 280 deals representing in excess of $12.8 billion in value.
Over 100 mergers, acquisitions and securities offerings totaling in excess of $7.9 billion and over 80 senior and mezzanine debt financing transactions totaling in excess of $3.1 billion in value.
Counseled the Special Committee of First Citizens BancShares, Inc. in its acquisition of First Citizens Bancorporation in the largest bank holding company merger in the Southeast and third largest nationally in 2014.
Over 60 life sciences and healthcare transactions and 40 information and materials technology transactions totaling in excess of $3.8 billion.
Over 100 real estate and construction matters totaling in excess of $2 billion, including major transportation, public works and commercial development projects and Duke Energy's $500 million expansion of regulated solar power in North Carolina.
CLICK HERE to view a list of some of our clients' key transactions.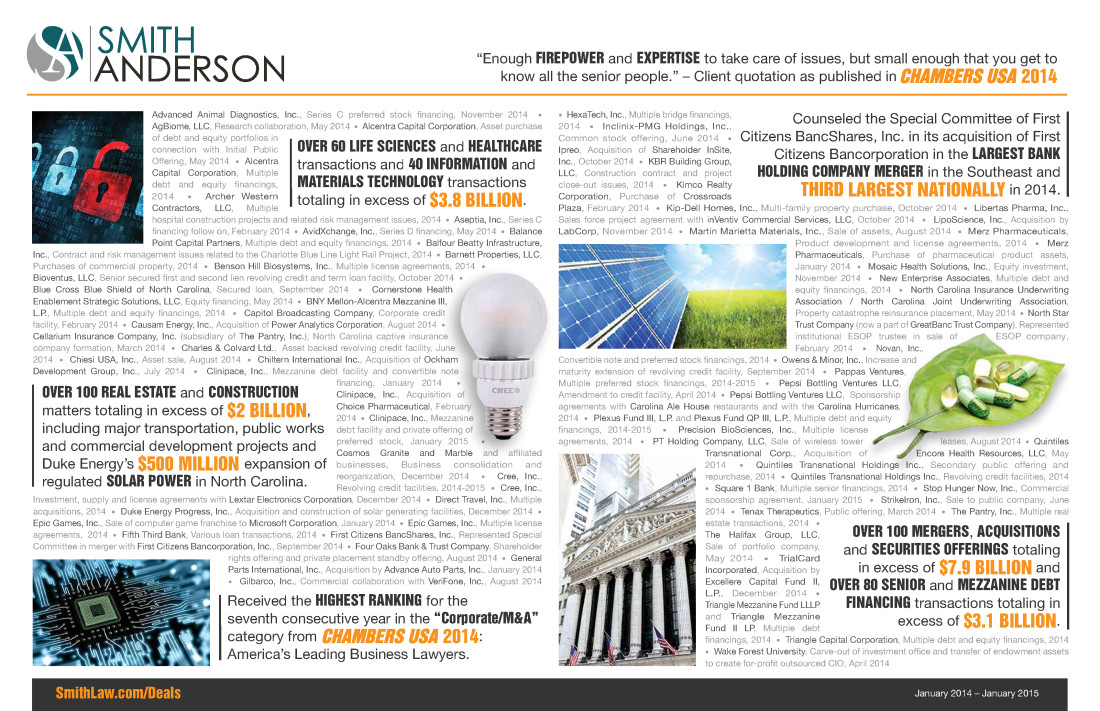 Print PDF