Practice Contact
Professionals In This Practice
Data Use, Privacy and Security
With the global surge in digital technologies, the amount of data has exploded. Social media, mobile devices, geo-location tracking and cloud-based technologies are only a few of the ways that data is being collected and shared in all industries. At the same time, a growing patchwork of laws restricts the way data assets can be used, and regulates their protection. Understanding this ever-changing landscape is critical for companies to maximize the benefits of critical data assets, without running afoul of the applicable regulatory scheme.
Lawyers in our Data Use, Privacy and Security practice use a multi-disciplinary approach to provide tailored and strategic data counsel for businesses in all industries. Our expertise merges regulatory compliance, technology law and licensing, commercial contracting and dispute management, yielding our unique ability to advise clients on all aspects of data management and commercialization. For firsthand data breach experience of our clients' perspectives, view our DATA BREACH STRATEGIES.
Our Work
We provide counsel in areas such as policies and procedures, data breach response, investigations, disputes, risk management and corporate transactions that involve data transfer. We handle cutting-edge collaborations and strategic alliances involving the license and exchange of identifiable and de-identified data assets and analytics applications. As businesses increasingly move into digitized markets, we provide counsel for online business models involving issues such as geo-location and mobile device tracking.
Because several of our team members have in-house counsel experience, when data privacy or security issues arise we understand our clients' perspective particularly well. We help them navigate this era of data and digitization with a pragmatic, businesses-focused approach.
Our Clients
We advise a wide range of local, regional, national and international clients in industries such as:
Software, data and cloud computing services

Internet and e-commerce
Marketing and advertising
Health care, life science and pharmaceutical services
Social media and communications
Financial services
Manufacturers and retailers
Our Expertise
Our multi-disciplinary team of lawyers has a thorough understanding of the substantive areas that typically underlie such issues, including Intellectual Property; Technology; Health Care; Employment, Labor & Human Resources; Corporate and Securities; and Litigation. We leverage our expertise to provide tailored and practical advice on data privacy requirements, including the HIPAA Privacy Rule; the Gramm-Leach-Bliley Privacy Rule; marketing laws; the Children's Online Privacy Protection Act (COPPA); mobile device and tracking laws; the Fair Credit Reporting Act (FCRA); and the Fair and Accurate Credit Transaction Act (FACTA), as well as information security requirements in the HIPAA Security Rule; the Gramm-Leach-Bliley Safeguards Rule; the Payment Card Industry Data Security Standard; state security laws; corporate governance legislation and regulations; and unfair business practices law (FTC Act, Section 5).
Compliance
Assist with data breach investigation and response
Advise on de-identifying data assets
Provide best practices and policies for compliance with data-related laws and regulations
Prepare terms of use and privacy statements for websites and mobile apps
Provide data-driven business model analysis and strategy
Address employee privacy issues and employee nondisclosure obligations for confidential and proprietary information
Review and manage claims under cyber insurance policies
Commercial Transactions
Strategic collaborations involving licensing of data and databases, and the creation of data mining and analytics tools
Creation and licensing of digital content
Addressing privacy, security and data transfer and protection issues in mergers, acquisitions and other corporate transactions
Outsourcing and procurement of technology and complex services, including data hosting and processing
Structuring and contracting for health information exchange
Litigation
Trade secret theft
Commercial business to business contract disputes
Risk management of data and security breach scenarios
Prosecuting and defending claims stemming from data and security breaches
News
November 30, 2016

March 11, 2016

January 8, 2016

December 21, 2015

May 29, 2015

May 20, 2015

May 20, 2015

May 6, 2015

April 22, 2015

March 20, 2015

March 12, 2015

January 23, 2015

December 9, 2014

October 3, 2014

August 18, 2014

July 11, 2014

June 30, 2014

June 30, 2014

June 18, 2014

April 25, 2014

April 15, 2014

March 31, 2014

December 18, 2013

December 18, 2013

December 12, 2013

October 28, 2013

February 7, 2013

December 20, 2012

December 11, 2012

June 12, 2012

October 27, 2010

May 20, 2010

April 30, 2010

April 1, 2010

June 23, 2009

April 6, 2009

April 1, 2009

March 26, 2009

March 19, 2009

February 4, 2009
Publications
July 13, 2016

July 29, 2015

May 31, 2015

Practical Law™ Labor & Employment

May 29, 2015

April 9, 2015

February 16, 2015

January 23, 2015

Entrepreneur.com

December 3, 2014

August 13, 2014

July 22, 2014

May 21, 2014

April 3, 2014

January 9, 2014

January 6, 2014

November 27, 2013

Alicia Gilleskie and Mary Pat Sullivan

November 27, 2013

November 27, 2013

April 5, 2013

November 21, 2011
Events
March 18, 2015

Proximity Hotel | Greensboro, N.C.

January 21, 2015

Research Triangle Park Headquarters

December 3, 2014

Capital City Chop House, Morrisville

May 14, 2014

March 18, 2014

June 2013

The Umstead (Ballroom 1): 100 Woodland Pond Drive, Cary, N.C. 27513
Since January 2016, Smith Anderson has advised clients in more than 300 transactions representing approximately $30 billion in value, including mergers, acquisitions and divestitures; real estate development and construction; life sciences and health care; technology and intellectual property; debt finance; private equity and mezzanine finance; initial public offerings; growth companies and venture capital; and fund formation. The following provides a comprehensive overview of some of our clients' key business transactions in 2016. Highlights include:
Over 60 Mergers, Acquisitions and Public Offerings totaling approximately $22 billion, including the representation of Quintiles in its merger with IMS Health Holdings.
Over 60 Life Sciences and Health Care transactions, including an immuno-oncology partnership worth up to $1.6 billion for genome editing company Precision BioSciences.
Over 70 Debt Finance and more than 50 Private Equity and Mezzanine Finance transactions totaling more than $4 billion.
Over 100 Real Estate and Construction matters totaling more than $2 billion.
Over 60 Technology and Intellectual Property transactions totaling more than $3 billion, including the representation of Southern Company and PowerSecure, Inc. in their strategic alliance with Bloom Energy Corporation.
Our firm is fortunate to have worked on a wide array of transactions with a diverse group of clients. CLICK HERE to expand the image below, which lists some of our clients and their business transactions in 2016.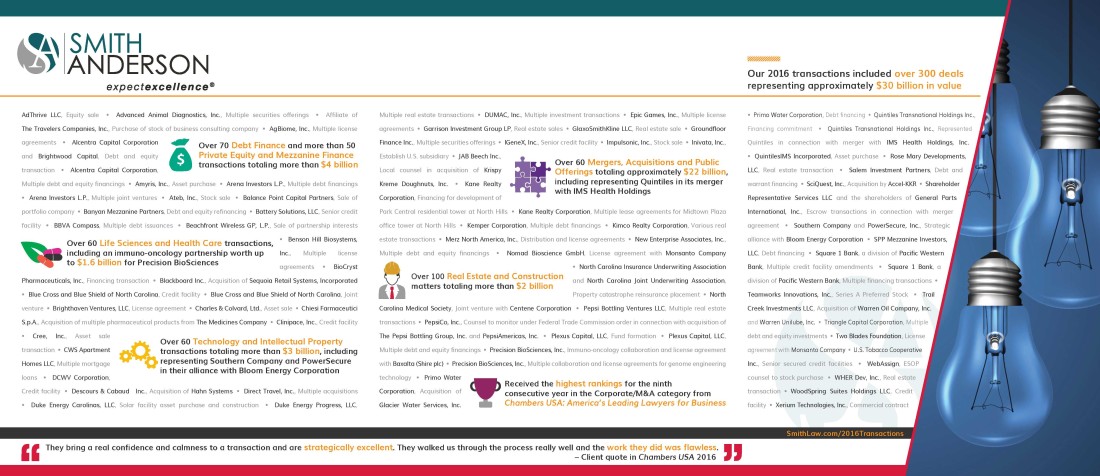 Print PDF