Overview
As the largest law firm headquartered in Raleigh, and nearby the Research Triangle region, we have been involved in many of North Carolina's largest and most complex private commercial and public construction and infrastructure projects. Our team of lawyers is adept at counseling clients through all construction-related legal needs. We assist with construction contract preparation and negotiation, risk management, claims avoidance and administration. Through mediation, arbitration and litigation, we also help our clients efficiently resolve construction-related disputes and bond, lien and insurance claims. Our Construction and infrastructure law practice and a number of its individual attorneys have received recognition from leading ranking publications such as "Best Law Firms" – a joint collaboration between U.S. News & World Report and Best Lawyers®, The Best Lawyers in America©, North Carolina Super Lawyers and Business North Carolina "Legal Elite."
Our clients include regional, national and international construction firms working on significant public and private projects; regional and national real estate development companies; regional and national construction subcontractors; commercial and institutional owners such as pharmaceutical and biotech companies, medical, manufacturing, energy and retail companies. Additionally, our firm's project portfolio includes representation on significant highway, airport, rail and other public infrastructure projects, and utility scale energy and renewables projects.
We often draw on our firm's deep resources in related areas such as Commercial Real Estate, Environmental, OSHA, Land Use and Zoning, Corporate Relocation and Expansion, Government Relations, Employment, Debt Finance, and Bankruptcy, Workouts and Creditors' Rights. For a full list of our firm's practice areas, CLICK HERE.
Experience
Representation of national contractor in successful bid dispute resulting in award to client of contract for North Carolina's first light rail project
Representation of prime contractor on bid and all other legal issues related to North Carolina's first Turnpike Authority highway construction project ($400 million I-540 extension project)
Representation of large pharmaceutical company in connection with construction and development of its world headquarters located in Research Triangle Park area of North Carolina
Representation of national prime contractor on risk management and claims issue related to $480 million airport terminal project
Representation of municipality in connection with claims and litigation involving $110 million island-wide sewer system project
Representation of developer in state court litigation involving construction defect claims in a 140-unit town home complex
Representation of Fortune 500 company on design-build engineering, procurement and construction (EPC) agreement for construction of "next generation" nuclear power plant project estimated at $4 billion
Representation of large medical practice on design-build agreement for construction of $20 million medical facility
Representation of international contractor in litigation with government prime contractor arising from performance of the Communications Sector Design/Build Services IDIQ Project in Iraq
Representation of pre-cast concrete subcontractor in federal court litigation involving a $40 million state prison construction project
Representation of national contractor on bid issues and claims arising from a $140 million state and federal interstate highway project
Representation of national contractor in dispute involving airport authority and national concrete contractor in connection with a $10 million airport aircraft taxiway-bridge project
Representation of Fortune 250 company in negotiations and preparation of engineering, procurement and construction (EPC) agreements for the construction of three solar facilities, totaling 128 megawatts of capacity

Representation of contractor in dispute arising from construction defect claims involving construction of a $48 million performing arts center

Served in general counsel role for national general contractor on challenging Public Safety Center project including bid, bond, and subcontractor default issues, as well as design and scheduling-related claims and project closeout issues

Representation of owner/developer on design and construction agreements for new construction of a national brand hotel

Representation of surety in engagement of replacement contract and completion of multi-million-dollar public utility projects

Representation of surety in prosecution of defaulted bond principal's claim against government-owner for nonpayment for work, securing significant recovery for surety
Services
Contract drafting and negotiation
Owner-Contractor-Subcontractor disputes (mediation, arbitration, litigation)
Federal, state and local government contracting, procurement and bid disputes
Lien issues and enforcement
Surety bond and insurance matters (including "Miller" and "Little Miller Act" experience)
Construction defect and product litigation
Architect and engineer representation and claims
Creditors' rights, collections and bankruptcy protection
Commercial landlord-tenant upfit, leasing and dispute resolution
Licensing issues
News & Publications
Publications
01.03.2017

09.19.2016

08.30.2016

"Insurance Issues in Construction" Chapter of North Carolina Construction Law Deskbook (3rd-7th Editions (2016, 2013, 2010, 2006, 2003))

"Construction Liens" Chapter of North Carolina Construction Law Deskbook (4th-7th Editions (2016, 2013, 2010, 2006))

"Licensing of Construction Industry Professionals" Chapter of North Carolina Construction Law Deskbook (3rd-7th Editions (2016, 2013, 2010, 2006, 2003))

05.07.2015

01.29.2015

08.28.2014

07.29.2014

05.14.2014

05.02.2014

11.2012

Printed in Change Order, reprinted in Disclosure Statement, February 2013 (publications of the Construction and Bankruptcy Sections of the North Carolina Bar Association respectively)

05.11.2012

07.25.2011

05.10.2010

01.2010

Printed in Change Order, also in Disclosure Statement, October 2009 (publications of the Construction and Bankruptcy Sections of the North Carolina Bar Association respectively)

06.04.2008

02.28.2008

North Carolina Bar Association's Construction Law Section

01.08.2007

05.01.2006

04.02.2004

06.14.2002
2016 Closed Transactions
2016 Closed Transactions
Since January 2016, Smith Anderson has advised clients in more than 300 transactions representing approximately $30 billion in value, including mergers, acquisitions and divestitures; real estate development and construction; life sciences and health care; technology and intellectual property; debt finance; private equity and mezzanine finance; initial public offerings; growth companies and venture capital; and fund formation. The following provides a comprehensive overview of some of our clients' key business transactions in 2016. Highlights include:
Over 60 Mergers, Acquisitions and Public Offerings totaling approximately $22 billion, including the representation of Quintiles in its merger with IMS Health Holdings.
Over 60 Life Sciences and Health Care transactions, including an immuno-oncology partnership worth up to $1.6 billion for genome editing company Precision BioSciences.
Over 70 Debt Finance and more than 50 Private Equity and Mezzanine Finance transactions totaling more than $4 billion.
Over 100 Real Estate and Construction matters totaling more than $2 billion.
Over 60 Technology and Intellectual Property transactions totaling more than $3 billion, including the representation of Southern Company and PowerSecure, Inc. in their strategic alliance with Bloom Energy Corporation.
Our firm is fortunate to have worked on a wide array of transactions with a diverse group of clients. CLICK HERE to expand the image below, which lists some of our clients and their business transactions in 2016.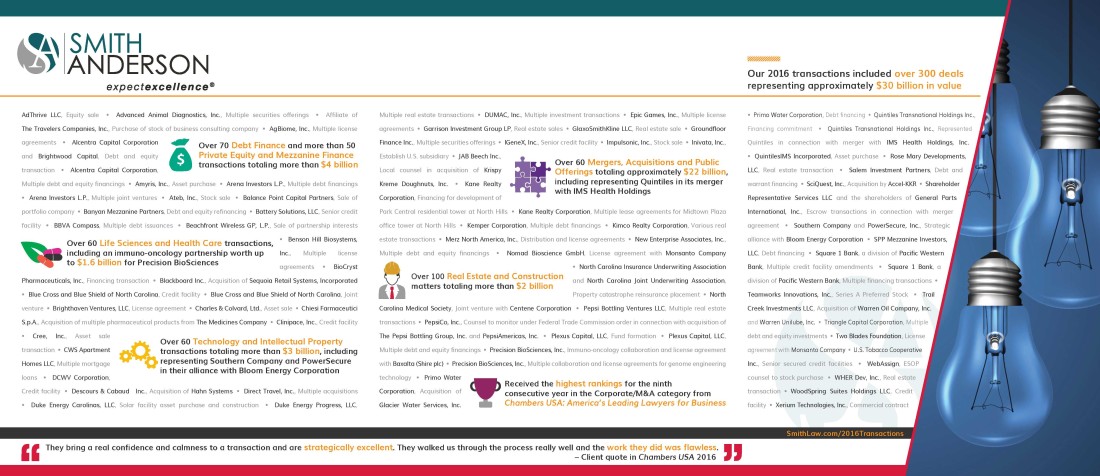 Practice Contact
Professionals