Overview
Our Commercial Real Estate group offers legal expertise and business counseling to help you buy, sell, finance, lease and develop commercial property. Our real estate practice and its lawyers have been consistently recognized in Chambers USA: America's Leading Lawyers for Business, The Best Lawyers in America®, Super Lawyers®, U.S. News – Best Lawyers® "Best Law Firms" and Benchmark Litigation.
With the benefit of our project-financing experience and our Construction and Land Use teams, we structure stand-alone and multistate projects and assist longstanding corporate clients with a myriad of real estate matters. We represent developers, investors, lenders, landlords and tenants in office, industrial and retail deals.
We have strong relationships with local government officials, lenders, appraisers, surveyors, title insurers and brokers. We're institutional investors, especially known for our expertise in financing deals, including construction financing; permanent financing; securitized loans; sale/leaseback transactions; joint ventures; like-kind exchanges; property assemblages and title examinations. In addition, we have experience in counseling clients through the complexities of developing and constructing office buildings, retail centers, mixed-use developments, distribution centers, industrial plants, medical facilities and residential developments. We also advise municipal and private sector clients in the formation and management of large and complex public-private joint ventures.
If your commercial real estate project or financing requires additional legal services, you need look no further than our firm. As a full-service business law firm, we offer expertise in such related fields as Private Equity, Mezzanine Finance, Debt Finance, Tax, Bankruptcy, Workouts and Creditors' Rights, Energy, Environmental, OSHA, and Real Estate Litigation. In whatever capacity you work with our firm, you will soon understand that our most important construction project is building a relationship of trust with you.
Experience
Representation of developer of signature Charlotte office tower in negotiation of anchor lease and major tenant leases
Representation of large southeastern convenience store company in acquisitions of numerous convenience store businesses throughout the southeast
Representation of national banks in connection with acquisition, development and construction financing
Representation of insurance companies in connection with permanent financing
Representation of major contract research organization in lease negotiations throughout the world
Representation of large restaurant franchisee in acquisition and financing of existing restaurants and sites for development of new restaurants
Representation of major restaurant industry food and merchandise distributor in negotiation of warehouse leases throughout the United States
Representation of shopping center owner in connection with refinancing of debt on numerous shopping center properties in Research Triangle Park region
Representation of private equity real estate fund in acquisition, disposition and leasing of retail and hotel assets nationwide
Representation of major pharmaceutical company in the sale and leaseback of office and laboratory campus in Research Triangle Park area
Representation of national bank in sale/leaseback of 100 branch bank sites in the southeast
Services
Structuring, financing, investigating and completing a wide variety of real estate acquisitions and dispositions

Experience in the development and construction of a variety of property types, including office buildings, retail and mixed-use developments, distribution centers, condominium projects, industrial plants, hotels, residential developments, medical and hospital facilities

Advise municipal and private sector clients in the formation and management of public/private joint ventures

Negotiation of warehouse, retail, office and health science leases on behalf of landlords and tenants

Representation of lenders and borrowers in connection with construction and permanent financing for acquisition, development and construction

Representation of sellers and buyers of improved and unimproved real estate
News & Publications
Publications
09.19.2016

03.2015

05.14.2014

11.2012

Printed in Change Order, reprinted in Disclosure Statement, February 2013 (publications of the Construction and Bankruptcy Sections of the North Carolina Bar Association respectively)

05.11.2012

05.10.2010

Author, "Unwritten Title Transfers" and "Water Boundaries: What Are Your Rights and Liabilities?"

10.17.2002

Boundary Law in North Carolina, National Business Institute
Events & Webinars
Webinars
2016 Closed Transactions
2016 Closed Transactions
Since January 2016, Smith Anderson has advised clients in more than 300 transactions representing approximately $30 billion in value, including mergers, acquisitions and divestitures; real estate development and construction; life sciences and health care; technology and intellectual property; debt finance; private equity and mezzanine finance; initial public offerings; growth companies and venture capital; and fund formation. The following provides a comprehensive overview of some of our clients' key business transactions in 2016. Highlights include:
Over 60 Mergers, Acquisitions and Public Offerings totaling approximately $22 billion, including the representation of Quintiles in its merger with IMS Health Holdings.
Over 60 Life Sciences and Health Care transactions, including an immuno-oncology partnership worth up to $1.6 billion for genome editing company Precision BioSciences.
Over 70 Debt Finance and more than 50 Private Equity and Mezzanine Finance transactions totaling more than $4 billion.
Over 100 Real Estate and Construction matters totaling more than $2 billion.
Over 60 Technology and Intellectual Property transactions totaling more than $3 billion, including the representation of Southern Company and PowerSecure, Inc. in their strategic alliance with Bloom Energy Corporation.
Our firm is fortunate to have worked on a wide array of transactions with a diverse group of clients. CLICK HERE to expand the image below, which lists some of our clients and their business transactions in 2016.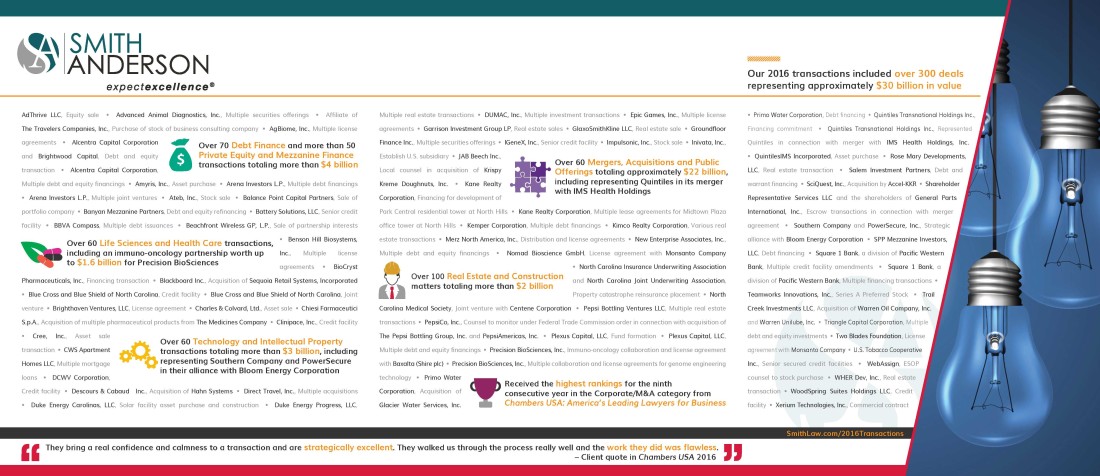 Practice Contacts
Professionals