Overview
As the largest business and litigation law firm based in North Carolina's Research Triangle Park area, we draw on more than a century of experience to help you navigate the law, manage commercial risk and achieve business goals. When you need to complete a core business agreement, we will apply our practical, results-oriented focus and our broad commercial contracts experience to help you achieve your objectives and position your business for continued growth.
We have deep commercial law experience across a broad spectrum of matters, and we leverage this strength across all manner of commercial contracts, including supply and procurement agreements; sales and distribution agreements; transportation and logistics agreements; contract services and joint venture agreements; equipment purchasing and equipment leasing agreements; sponsorship and franchise agreements.
As a full-service business law firm, we draw upon the skills and experience of other Smith Anderson lawyers, as necessary, who are proficient in the areas of tax, employment, labor and human resources, securities, startups and finance. We work with large, small and middle-market companies in rapidly changing economic, regulatory and competitive environments. Our process is simple – we listen to your objectives and then translate those objectives into the commercial contracts and other core agreements your business needs to succeed.
Experience
Represented a contract pharmaceutical laboratory in negotiation of multiple master services agreements with national and international pharmaceutical companies

Represented an international textile company in negotiation of multiple supply agreements with materials suppliers

Represented a solar module manufacturer in the negotiation of a long-term supply agreement with an international energy company

Represented a soft drink bottler in negotiation of multiple sponsorship agreements with professional sports teams and other tourist attractions

Represented a

food service

distribution company in negotiation of multiple distribution agreements with national restaurant chains

Represented a logistics company in negotiation of services agreements

Represented a redistribution company in negotiation

of procurement contracts

Represented a LED light manufacturer in negotiation of numerous procurement, manufacturing and sales agreements

Represented a contract manufacturer in numerous medical device supply contracts

Represented an international pharmaceutical company in negotiation of procurement, manufacturing and sales agreements
Services
Supply and procurement agreements

Sales and distribution agreements

Transportation and logistics agreements

Equipment purchasing and leasing agreements

Franchise agreements

Sponsorship agreements

Services agreements
2016 Closed Transactions
2016 Closed Transactions
Since January 2016, Smith Anderson has advised clients in more than 300 transactions representing approximately $30 billion in value, including mergers, acquisitions and divestitures; real estate development and construction; life sciences and health care; technology and intellectual property; debt finance; private equity and mezzanine finance; initial public offerings; growth companies and venture capital; and fund formation. The following provides a comprehensive overview of some of our clients' key business transactions in 2016. Highlights include:
Over 60 Mergers, Acquisitions and Public Offerings totaling approximately $22 billion, including the representation of Quintiles in its merger with IMS Health Holdings.
Over 60 Life Sciences and Health Care transactions, including an immuno-oncology partnership worth up to $1.6 billion for genome editing company Precision BioSciences.
Over 70 Debt Finance and more than 50 Private Equity and Mezzanine Finance transactions totaling more than $4 billion.
Over 100 Real Estate and Construction matters totaling more than $2 billion.
Over 60 Technology and Intellectual Property transactions totaling more than $3 billion, including the representation of Southern Company and PowerSecure, Inc. in their strategic alliance with Bloom Energy Corporation.
Our firm is fortunate to have worked on a wide array of transactions with a diverse group of clients. CLICK HERE to expand the image below, which lists some of our clients and their business transactions in 2016.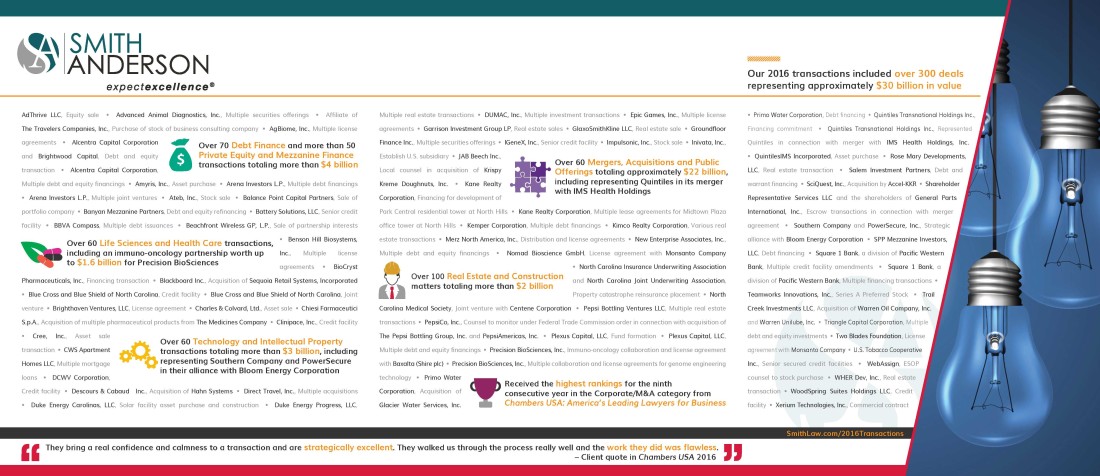 Practice Contacts