Overview
More than 25 lawyers strong, our Real Estate Development (RED) team is a collaborative group of land use, real estate, environmental and construction law professionals. We have been involved in many of North Carolina's largest and most significant real estate developments – both public and private projects – including major mixed-use, office, manufacturing, multi-family, retail, natural resource, infrastructure, and public utility projects. From project concept and development to completion, our team of real estate development lawyers counsel clients through every stage of a project.
Built on Trust®
Chambers USA, one of the leading ranking agencies for law firms and lawyers, has recognized our RED Group and its lawyers as among the best in the State. Clients who were interviewed by Chambers have described our lawyers as "inventive in coming up with solutions," demonstrating "impressive depth of knowledge" and "extremely detailed and thorough" (Chambers USA 2014). The group's expertise and experience has also resulted in rankings from other industry publications that include The Best Lawyers in America®, North Carolina Super Lawyers, U.S. News - Best Lawyers® "Best Law Firms," Benchmark Litigation and Martindale-Hubbell®.
We are honored by the trust placed in us by owners, investors, lenders, sureties, developers, design professionals, contractors, construction companies, landlords and tenants throughout the Southeast who rely on our expertise.
Teamwork Built on Cohesive Collaboration
We have assembled a comprehensive range of Real Estate Development practices under one cohesive group, designed to serve clients through all phases of a project. Our RED Group includes legal professionals who work together across multiple related areas:
Experience
Commercial Real Estate
Representation of developer of signature Charlotte office tower in negotiation of anchor lease and major tenant leases
Representation of large southeastern convenience store company in acquisitions of numerous convenience store businesses throughout the southeast
Representation of national banks in connection with acquisition, development and construction financing
Representation of insurance companies in connection with permanent financing
Representation of major contract research organization in lease negotiations throughout the world
Representation of large fast food restaurant franchisee in acquisition and financing of existing restaurants and sites for development of new restaurants
Representation of major restaurant industry food and merchandise distributor in negotiation of warehouse leases throughout the United States
Representation of shopping center owner in connection with refinancing of debt on numerous shopping center properties in Research Triangle Park area
Representation of national bank in sale/leaseback of 100 branch bank sites in the Southeast
Representation of private equity real estate fund in acquisition, disposition and leasing of retail and hotel assets nationwide
Representation of major pharmaceutical company in the sale and leaseback of office and laboratory campus in Research Triangle Park area
Construction and Public Infrastructure
Representation of national contractor in successful bid dispute resulting in award to client of contract for North Carolina's first light rail project
Representation of prime contractor on bid and all other legal issues related to North Carolina's first Turnpike Authority highway construction project ($400 million I-540 extension project)
Representation of large pharmaceutical company in connection with construction and development of its world headquarters located in Research Triangle Park area of North Carolina
Representation of national prime contractor on risk management and claims issue related to $480 million airport terminal project
Representation of municipality in connection with claims and litigation involving $110 million island-wide sewer system project
Representation of developer in state court litigation involving construction defect claims in a 140-unit town home complex
Representation of Fortune 500 company on design-build engineering, procurement and construction (EPC) agreement for construction of "next generation" nuclear power plant project estimated at $4 billion
Representation of large medical practice on design-build agreement for construction of $20 million medical facility
Representation of international contractor in litigation with government prime contractor arising from performance of the Communications Sector Design/Build Services IDIQ Project in Iraq
Representation of pre-cast concrete subcontractor in federal court litigation involving a $40 million state prison construction project
Representation of national contractor on bid issues and claims arising from a $140 million state and federal interstate highway project
Land Use & Zoning
Representation of a national real estate developer in obtaining zoning and land use approvals and environmental permits for a regional shopping mall of 1.6 million square feet and peripheral retail and office developments
Representation of the owner/developer of a 1,000 acre land assemblage in drafting ordinances establishing a new zoning district for Sustainable Mixed-Use Development which was adopted by the City Council and, thereafter, in the rezoning of the assemblage to the new zoning district, which incorporates urban densities and form-based zoning principles
Representation of a national REIT in the heavily-contested successful rezoning of residentially-zoned property subsequently developed as a 900,000 square foot office park; several years later, a second rezoning case achieved approval for mixed-use retail throughout the park
Representation of a national real estate developer in rezoning and quasi-judicial approvals for a mid-rise, 250-residential unit mixed-use project
Representation of an international soft drink company in successfully blocking approval on two separate occasions of a 1,000-acre residential development proposed adjacent to the company's regional bottling and distribution facility
Representation of a developer in drafting ordinances enabling redevelopment of nonconforming uses within a restricted reservoir watershed area and, after adoption of the ordinances by the County Commission, obtained approval of the only shopping center developed within the protected area since its establishment more than 20 years ago
Representation of a national developer in achieving governmental approval and funding for an urban interstate interchange to serve a mixed-use project of hundreds of acres
Representation of regional and national clients in a number of successful quasi-judicial proceedings approving projects as varied as quarries, waste management and landfill facilities, shopping centers and regional fuel terminals
Representation of owners and developers in litigation, including appellate proceedings, successfully achieving and defending rezonings, special use permits and vested rights
Representation of owners/developers in obtaining all land use approvals for an extensive mixed-use commercial development that includes large retail and home improvement stores, a 22-screen cinema, restaurants, a food store and a 400-unit apartment complex
Environmental and OSHA
Due diligence investigations and compliance audits
Real estate and business transactions, including contractual allocation of environmental risks and liabilities
Enforcement action defense, including citations and civil penalty assessments
Internal investigations and crisis management due to workplace fatalities, industrial accidents, chemical and petroleum product spills and worker safety complaints
Environmental and administrative litigation, including Superfund, RCRA, insurance coverage disputes and toxic torts
Petroleum marketing and convenience store industry issues, including underground storage tank compliance and State Trust Fund eligibility
Permitting, approvals and regulatory clarifications
NPDES, Section 404/401 and storm water permitting; construction and development involving water rights, wetlands, streams, riparian buffers, shorelines and erosion control
Air quality, including indoor air quality and mold issues, as well as mining and dam safety
OSHA compliance including hazard communication, confined space entry, lockout/tagout, fall protection, personal protective equipment (PPE), recordkeeping and process safety management
Brownfields redevelopment, site remediation and transfers of contaminated property and assets
Legislative and agency advocacy before N.C. General Assembly, NCDENR, NCDOL-Occupational Safety and Health Division and various administrative boards
Monitor and analyze legislation for our clients, network with legislators and agency regulators and participate in government meetings and hearings
Climate change, renewable energy and sustainability disclosure analysis and contract regulations
Real Estate Litigation
Litigation Between Buyers and Sellers of Commercial Real Estate
Obtained an order granting specific performance requiring defendant seller to convey a downtown tract of land to client purchaser
Successful defense of landowner sued by a buyer asserting a multi-million-dollar damages claim in connection with an agreement to sell a 17-acre tract to be developed as a shopping center
Litigation Involving Commercial Real Estate Leases
Represented national retail chain and obtained a mandatory injunction requiring its landlord to deliver documents to governing municipality so that it could issue a Certificate of Occupancy that was needed for plaintiff to open its retail store
Represented landowner in dispute concerning its tenant's failure to construct a power plant on the leased property. Negotiated termination of 60-year lease and power purchase agreement
Land Use and Zoning Litigation
Represented developer-intervenor in defending commercial rezoning of property and resolution of issues related to the city's comprehensive plan
Represented developer-lessee in defense of approval of site plan for industrial facility
Special Proceedings
Litigated cartway action and obtained access for petitioner's landlocked seven-acre tract
Obtained partition of property owned by tenants in common
Eminent Domain/Condemnation
Represented several utility companies in acquiring by condemnation or settlement more than 1,000 miles of easements and fee-owned property for electric transmission lines and natural gas pipelines in more than 30 counties in North Carolina
Represented municipalities in acquiring by condemnation or settlement water and sewer easements
Services
Corporate headquarters and expansion projects
Office, retail and mixed-use centers as well as regional shopping malls and big box development
Public infrastructure projects such as light rail, airport, power plants and highway construction
Hi-tech manufacturing and pharmaceutical facilities
Sustainable single- and multi-family residential developments
Planned unit developments and coastal golf course communities
2016 Closed Transactions
2016 Closed Transactions
Since January 2016, Smith Anderson has advised clients in more than 300 transactions representing approximately $30 billion in value, including mergers, acquisitions and divestitures; real estate development and construction; life sciences and health care; technology and intellectual property; debt finance; private equity and mezzanine finance; initial public offerings; growth companies and venture capital; and fund formation. The following provides a comprehensive overview of some of our clients' key business transactions in 2016. Highlights include:
Over 60 Mergers, Acquisitions and Public Offerings totaling approximately $22 billion, including the representation of Quintiles in its merger with IMS Health Holdings.
Over 60 Life Sciences and Health Care transactions, including an immuno-oncology partnership worth up to $1.6 billion for genome editing company Precision BioSciences.
Over 70 Debt Finance and more than 50 Private Equity and Mezzanine Finance transactions totaling more than $4 billion.
Over 100 Real Estate and Construction matters totaling more than $2 billion.
Over 60 Technology and Intellectual Property transactions totaling more than $3 billion, including the representation of Southern Company and PowerSecure, Inc. in their strategic alliance with Bloom Energy Corporation.
Our firm is fortunate to have worked on a wide array of transactions with a diverse group of clients. CLICK HERE to expand the image below, which lists some of our clients and their business transactions in 2016.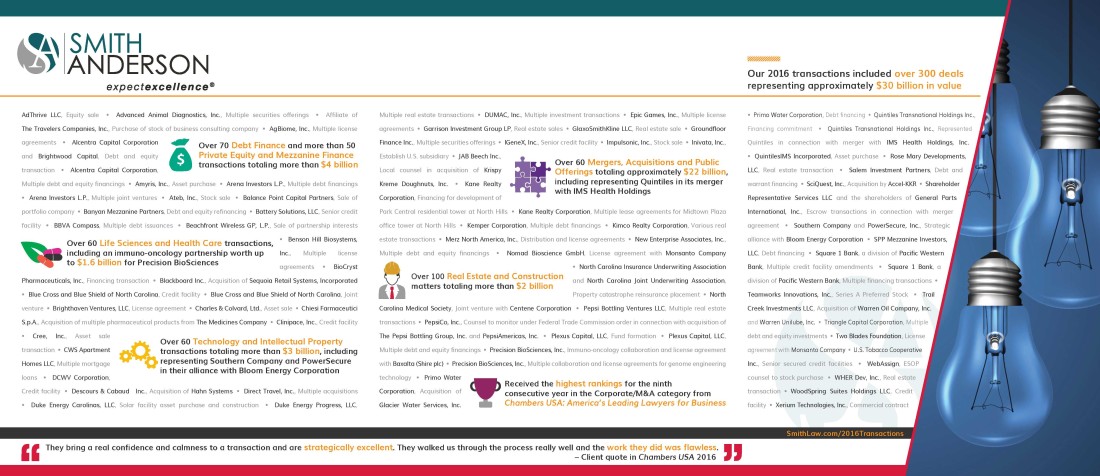 Practice Contacts