Practice Areas
Bar & Court Admissions
U.S. Court of Appeals for the Fourth Circuit
U.S. District Courts for the Eastern, Middle and Western Districts of North Carolina
U.S. District Courts for the Eastern and Western Districts of Virginia
North Carolina, 1986
Virginia, 1980
Michigan, 1979
Education
University of Notre Dame, J.D., 1979
Saint Mary's College (Notre Dame, IN), B.A., magna cum laude, 1976
Clerkships
Volunteer clerk for the Honorable W. Earl Britt, District Court Judge for the Eastern District of North Carolina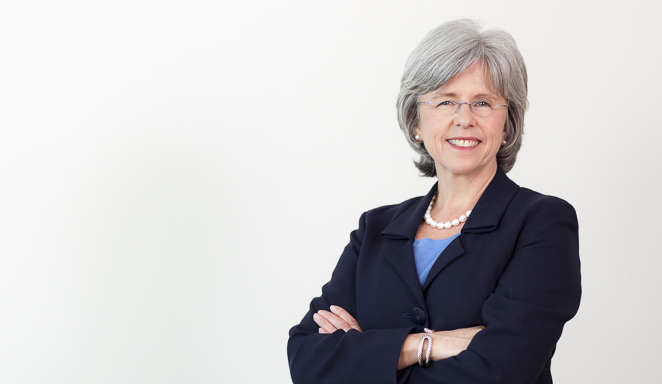 Rose Kenyon's practice involves all aspects of employment and labor law counseling and litigation, across a wide variety of industries and companies, both public and private. She has extensive experience advising companies on their most strategic and high risk employment issues. Rose also works with companies on employment matters in mergers and acquisitions, and has extensive experience drafting complex employment agreements and separation agreements on behalf of both companies and executives. Rose is a frequent speaker on emerging employment and labor law trends and regularly conducts training for human resources professionals and executive management. Rose also serves as a mediator to resolve disputes outside of litigation.
Prior to joining Smith Anderson, Rose served for 13 years as in-house counsel for Carolina Power & Light Company (now known as Duke Energy), having served as Deputy General Counsel.
Rose serves as Chair of the Firm's Pro Bono Committee.
Early in her career, Rose practiced with the Christian Barton firm in Richmond, Virginia.
Professional & Community Affiliations
North Carolina Bar Association

Board of Governors (2005-08)
Chair, Strategic Planning and Emerging Trends Committee (2008-11)
Chair, Women in the Profession Committee (2001-04)
Chair, Dispute Resolution Section (1995-96)
Council Member, Corporate Counsel Section (1989-97

Sections of Labor and Employment, Litigation and Dispute Resolution

American Bar Association

Sections of Labor and Employment, Litigation and Dispute Resolution

Wake County Bar Association and Tenth Judicial District Bar

Grievance Committee (2013-present)
Strategic Planning Committee (2015-present)

Saint Mary's College Alumnae Association, Board of Directors (Notre Dame, IN) (2015-present)
Community Music School of Wake County, Board of Directors (2014-present)
Habitat for Humanity of Wake County

Board Chair (2011-13)
Board of Directors (2005-13)
Honorary Co-Chair, Women's Build (2014)

Pines of Carolina Girl Scout Council

President (1992-95)
Board of Directors (1986-95)
Honors & Awards
Fellow, College of Labor and Employment Lawyers, Inducted 2015

Chambers USA: America's Leading Business Lawyers,

Labor & Employment (2008-2016)

The Best Lawyers in America

©

,

Employment Law - Management (2016-2017)

Women of Justice Award, Business Practitioner, North Carolina Lawyers Weekly (2012)
North Carolina Super Lawyers (2012-2016)
North Carolina Super Lawyers, Top 50 Women (2014)
Academy of Women of the YWCA of the Greater Triangle, Inducted 2004
Martindale-Hubbell AV Preeminent Rated
Fellow, American Bar Foundation
Experience
Served as lead in-house employment and labor counsel to a Fortune 500 company for 13 years, during a period of rapid change that included major workforce restructurings, union organizational activity, numerous employment based lawsuits and claims (including several multiple plaintiff suits and systemic claims), multiple OFCCP audits (including corporate headquarters and glass ceiling), among other things.

Lead employment lawyer in numerous merger and acquisition transactions in a wide-range of industries that included the resolution of significant transition issues regarding the misclassifications of workers (e.g., wage and hour, independent contractor), leased employee arrangements, liability for significant paid-time-off balances, professional employer organization arrangements, non-competition agreements and executive employment agreements, among other things.

Conducted internal investigations into misconduct, embezzlement, harassment, threats of workplace violence, and other wrongdoing, for both publicly traded and private companies.

Represented employers in the development of employment agreements, severance and non-competition agreements for senior level officers of both private and publicly traded companies.

Represented CEOs and senior level officers of both private and publicly traded companies in connection with their employment agreements in a wide-range of industries, including the institutional health-care, pharmaceutical, banking, technology and manufacturing industries, and in higher education.

Represented national and global companies in major reorganizations and downsizings of their workforces, including the relocation of offices, in a wide-variety of industries including the pharmaceutical, hospitality, technology, utility and manufacturing industries.

Provided strategic and risk management advice on sensitive and high risk employment decisions and processes, corporate governance, and the development of system-wide policies and handbooks.

Successfully defended numerous whistleblower claims under federal and state laws.

Successfully defended employers against systemic claims of race discrimination, and sensitive harassment and gender discrimination claims before the EEOC and the OFCCP.

Successfully defended employers before OSHA in serious injury and fatality cases.

Successfully defended employers in discrimination and employment contract lawsuits in federal and state court, including appeals.

Advised employers on system-wide wage and hour and independent contractor classification issues under federal and state wage and hour laws and tax laws.

Represented employers in government audits of I-9 compliance.
News
December 6, 2016

August 15, 2016

June 1, 2016

January 22, 2016

August 17, 2015

June 29, 2015

June 2, 2015

February 19, 2015

February 11, 2015

February 9, 2015

December 19, 2014

December 17, 2014

May 28, 2014

January 30, 2014

December 16, 2013

July 11, 2013

May 24, 2013

January 23, 2013

October 25, 2012

June 7, 2012

January 25, 2012

June 15, 2011

June 13, 2011

July 1, 2010

January 5, 2010

July 8, 2009

June 17, 2009

January 16, 2009
Publications
April 2015

Practical Law™ Labor & Employment

April 2015

Practical Law™ Labor & Employment

April 2015

Practical Law™ Labor & Employment

April 2015

Practical Law™ Labor & Employment

October 21, 2014

August 5, 2014

October 31, 2011

May 1, 2009
Author, ADR is Good News for Corporate Counsel, Corporate Counsel Section Newsletter, (North Carolina Bar Association 1995)
Contributing Author, Mini-Trial Overview, Desk Book on Dispute Resolution in North Carolina, (North Carolina Bar Association 1991)
Events
Co-Presenter, "Background Checks: Managing the Risks," Smith Anderson's 23rd Annual Employment Law Update, Cary, N.C.

October 2015

Presenter, "Employee Medical Issues in the Workplace: Update on the ADA, FMLA and More," Smith Anderson's 23rd Annual Employment Law Update, Cary, N.C.

October 2015

Presenter, "Employment Claims and Litigation: Trends and Risks," Eastern North Carolina Chartered Property Casualty Underwriters (CPCU) Association

November 2014

Presenter, "Health Issues in the Workplace: Understanding and Managing the Expanding Reach of the ADA and FMLA," Smith Anderson's 22nd Annual Employment Law Update, Cary, N.C.

October 2014

Presenter, "Key Employment Law Issues for a Business Owner," Women Presidents Organization, Greensboro, N.C.

June 2014

Presenter, "Selling a Business," Women Presidents Organization, Greensboro, N.C.

April 2014

Presenter, "Health in the Workplace: What's Hot under the ADA, the FMLA and More," Smith Anderson's 21st Annual Employment Law Update, Cary, N.C.

November 2013

Presenter, "Myths and Truths of Employment Law," Eastern North Carolina Chartered Property Casualty Underwriters (CPCU) Association

February 2013

Presenter, "Applying the ADA, FMLA and GINA to Employee Health Issues: Navigation Tips for Smooth Sailing," Smith Anderson's 20th Annual Employment Law Update, Cary, N.C.

November 2012

Presenter, "More on Health in the Workplace: A Workshop on Tackling the Most Common HR Problems," Smith Anderson's 19th Annual Employment Law Update, Cary, N.C.

November 2011

Presenter, "Health in the Workplace: Key Trends under the ADA, FMLA and GINA," Smith Anderson's 19th Annual Employment Law Update, Cary, N.C.

November 2011

Presenter, "Health in the Workplace: Key Issues for Employers Under the ADA, FMLA and Other Laws," Smith Anderson's 18th Annual Employment Law Update, Cary, N.C.

October 2010

Presenter, "Something for Everyone: Retooling the Americans with Disabilities Act and the Family and Medical Leave Act," Smith Anderson's 17th Annual Employment Law Update, Cary, N.C.

October 2009

Presenter, "The Employment Law and ESOP Implications of Reductions in Force and Multiple Layoffs," Carolinas Chapter of The ESOP Association 2nd Annual Conference, Pinehurst, N.C.

2009

Presenter, "Medical Workplace Issues: Getting a Handle on the Major Developments under the ADA, the FMLA and Related Laws," Smith Anderson's 16th Annual Employment Law Update, Cary, N.C.

October 2008

Moderator, "Tough Employment Law Questions," Smith Anderson's 16th Annual Employment Law Update, Cary, N.C.

October 2008