Practice Areas
Education
University of Chicago, J.D., with honors, 2001
University of Maryland, M.A., 1994
Graduate, Officer Naval Nuclear Engineering Program
United States Naval Academy, B.S., with honors and distinction, 1993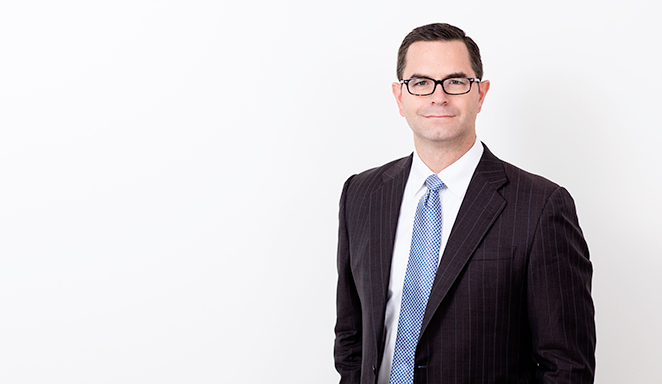 Jeff Truitt's practice areas include mergers and acquisitions, commercial and finance transactions, and government contracts. He has significant experience in the drafting and negotiation of manufacturing and supply agreements, vendor agreements, licensing arrangements, and other contracts that support the day to day operations of companies. He also routinely represents early stage and growth companies in all phases of start-up, financing and exits, with particular emphasis on the sale of closely held businesses.
Jeff has experience working with clients in a broad range of industries, including software, packaging, pharmaceuticals, biotechnology, travel services, manufacturing, distribution, clean tech, utilities and professional services. Jeff also has significant non-profit experience arising from his involvement with Stop Hunger Now, Inc., an international relief and developmental assistance organization.
Prior to joining Smith Anderson, Jeff practiced in the Corporate Group at Sidley Austin LLP in Chicago, Illinois. He also served four years as general counsel for a military base in Europe, in which he managed various civilian employment, litigation, real estate and international legal matters.
Before attending law school, Jeff served as a nuclear-trained submarine officer based in the Pacific northwest.
Professional & Community Affiliations
International Law & Practice Council, North Carolina Bar Association
Member, U.S. International Qualifications Appraisal Board
Secretary-Treasurer, North Carolina State Board of Certified Public Accountant Examiners
Immediate Past Chairman of Board, Stop Hunger Now
Director, USO of North Carolina
Captain, JAG Corps, U.S. Navy Reserve (International Law qualified)

Former Secretary, Johnston County Board of Elections

Former President, Naval Academy Alumni Association, North Carolina Triangle Chapter
Honors & Awards
The University of Chicago Booth School of Business - business plan competition, second place, 2001
William F. Bryant Prize, awarded for scholarship in Shakespeare, 1993
Experience
Advised an investment company in a definitive agreement to purchase the outstanding equity interests of the largest independent blender and packager of lubricants to the automotive, agriculture, commercial and heavy duty markets in North America
Represented a Software as a Service company in the leveraged buyout by a private equity fund
Represented an Irish consumer products company in its acquisition of a California-based distributor
Represented a material science company in a joint venture with a private-equity backed distributor
Represented a high technology company in exclusive distribution relationships
Represented a talent management software company in $100 million acquisition by a private equity group
Represented a multinational manufacturer and supplier to the papermaking industry in connection with new $278 million multi-currency senior secured credit facility
Represented a biotechnology company in a tax-free reorganization and acquisition by a private equity fund
Advised a privately-held food processing technology company in an agreement to sell the assets of its two wholly-owned subsidiaries for $25 million in cash at closing with a $20 million cash earnout
Represented a publicly-traded business development company in $14.2 million subordinated debt and equity investment in a restaurant franchisor
Represented public, global contract research organization in its acquisition of specialty equipment manufacturer
Represented a private equity fund in its acquisition of $40 million consumer products company
Represented a leading open source software provider in a cross-border asset acquisition
Represented angel investors in formation of venture capital fund and private placement of preferred stock
Represented a pharmaceutical company in negotiation of gas, electricity, and steam supply agreements
Represented a construction company in its acquisition of an asphalt plant facility
Represented a U.S. company in its demerger from a Japanese conglomerate
Represented a health insurer service provider in sale of assets
Represented various growth companies in sale of preferred stock
Represented provider of video automation services in attempted sale to public international company
Represented public telecom in multiple acquisitions
Represented an automated bill service provider in bolt-on acquisition
Represented government contractor in its sale of stock to an ESOP
Represented an automated bill service provider in redemption and issuances of preferred stock
Represented a consumer products company in bolt-on acquisition
Represented venture-backed food processing company in the negotiation of co-packing agreements
News
June 23, 2015

January 2, 2015

March 18, 2014

February 21, 2014

January 30, 2014

May 31, 2012

February 22, 2012

December 7, 2011

September 6, 2011

August 1, 2011

February 24, 2011
Publications
Contributor, "Guide to Fixed-Price Supply Subcontract Terms and Conditions," Fifth Edition, American Bar Association Section of Public Contract Law (2016)

August 2016

August 31, 2015

June 18, 2015

April 27, 2015

June 20, 2013
Events
Presenter, "Requirements for International Shareholders," North Carolina Bar Association Annual Conference, Charlotte, N.C.

June 2016

Presenter, "International Legal Principles in the South China Sea Disputes," Navy JAG Military Leadership Training Symposium-East, Alexandria, Va.

April 2016

Presenter, "The Law of Naval Operations," Navy JAG Military Leadership Training Symposium-West, San Diego, Calif.

April 2016

Presenter, "International Law for Entrepreneurs," Campbell University School of Law, Raleigh, N.C.

March 2016

Presenter, "Packaging Hope," Stop Hunger Now, Raleigh, N.C.

September 2015

Presenter, "Non-International Armed Conflict," Rotary Club International (Garner Chapter), Garner, N.C.

June 2015

Presenter, "Weapon Use in NIAC and How Can They Be Targeted," Workshop on Non-International Armed Conflict, International Institute of Humanitarian Law, San Remo, Italy

May 2015

Panelist, "Current Legal Issues in NIAC," Workshop on Non-International Armed Conflict, International Institute of Humanitarian Law, San Remo, Italy

May 2015

Presenter, "Joint Military Operations Course," U.S. Naval War College, Newport, R.I.

March 2015

Presenter, "Joint Military Operations Course," U.S. Naval War College, Newport, R.I.

February 2014