Practice Areas
Bar & Court Admissions
U.S. District Court for the Eastern District of North Carolina
All North Carolina State Courts
Education
University of North Carolina, J.D., with honors, 1996
Duke University, A.B., 1991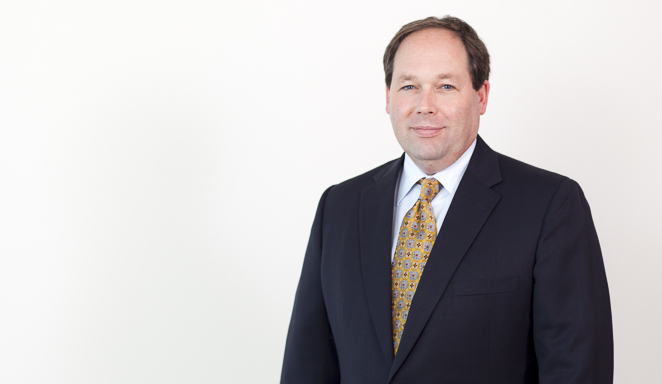 Jamie Hinkle advises a wide range of clients on all aspects of their employee benefits and compensation programs. Much of his practice includes helping employers design and administer cost-effective retirement and health and welfare benefit plans while minimizing legal risks and administrative complications. His work includes helping ensure benefit plans comply with ERISA, the Internal Revenue Code, HIPAA, COBRA, relevant sections of the North Carolina Insurance Code, and other federal and state laws as well as assisting employers correct operational errors and respond to IRS and Department of Labor (DOL) plan audits.
Jamie also frequently advises corporate clients ranging from start-ups to global publicly-traded companies with respect to the adoption and administration of annual and long-term incentive and bonus plans, nonqualified deferred compensation arrangements, and various equity-based compensation plans, including stock option, restricted stock, and restricted stock unit (RSU) awards. He works closely with the firm's business lawyers in addressing the various employee benefits and executive compensation due diligence, correction, and integration issues that arise in connection with mergers, acquisitions, and other corporate transactions. As part of his practice, Jamie also frequently represents both executives and employers in negotiating and drafting executive employment and severance agreements, including work on golden parachute (Code Section 280G) issues and deferred compensation compliance matters under Code Section 409A.
Jamie also has broad experience in estate planning for high net-worth executives with particular expertise on planning for the tax-efficient transfer and diversification of stock options and other equity compensation awards.
Jamie practiced employee benefits and estate planning with Hunton & Williams in Raleigh and with Balch & Bingham LLP before he joined Smith Anderson in 2000.
Professional & Community Affiliations
American Bar Association
North Carolina Bar Association

Tax, Business Law, and Estate Planning & Fiduciary Law Sections
Council Member, Tax Section Council, North Carolina Bar Association (2001-present)
Chair, Employee Benefits Committee, Tax Section, North Carolina Bar Association (2005-2014)

Wake County Bar Association
Director, Food Runners Collaborative, Inc. (2011- Present; Chair, 2014)
Former Director, Junior Achievement of Eastern North Carolina, Inc.
National Association of Stock Plan Professionals (NASPP), Carolinas Chapter
Triangle Benefits Forum (TBF)
Honors & Awards
The Best Lawyers in America©, Employee Benefits (ERISA) Law (2013-2017)
North Carolina Super Lawyers Rising Star, ERISA (2013)
Experience
Design and draft equity compensation and bonus plans for various start-up companies
Coordinate company-wide stock option repricing and exchange program for underwater stock options
Represent employer in overhauling existing equity compensation awards for chief operating officer
Prepare and file Corrective Top Hat Plan Filings Under DOL's Delinquent Filer Voluntary Compliance Program (DFVCP) for Fortune 100 Company
Advise on Benefit Plan Corrections in Connection with Sale of Major Pharmaceutical Company
Advise Terminating Multiple Employer Welfare Arrangement (MEWA) and Voluntary Employees' Beneficiary Association (VEBA) on IRS and DOL Compliance Issues and Distribution of Surplus Trust Assets
Advise employers on 401(k) plan coverage and eligibility issues in connection with IRS contractor misclassification audit
Advise on Equity Compensation and Benefit Plan Integration Issues Following Client's Purchase of Major Competitor
Design and Draft Nonqualified Deferred Compensation Retention Plan for Key Executives of Venture-Backed Start-Up
Advise a public specialty pharmaceutical company on cash-out of target's stock options, coordination of severance benefits, and post-closing benefits integration
Advise insolvent client on criminal liabilities associated with improper benefit plan terminations
Amend and restate numerous 401(k) plans for required plan amendments
Represent a global provider of biopharmaceutical development services and commercial outsourcing services in favorably resolving DOL audit of 401(k) Plan reporting failures
Coordinate Revisions to major pharmaceutical company's self-insured health plan to comply with health care reform rules
Advise Publicly-Traded Pharmaceutical Company Section 409A Compliance for Staggered Severance Payments to Departing Executives
Advised a private equity fund on the acquisition, equity and debt financing of a reference laboratory
Advised a SaaS company on employee benefits and executive compensation issues related to its sale to a data integration public company
Advised a leading healthcare services provider on employee benefits and executive compensation issues related to its $60 million cash acquisition of a global sourcing company
News
August 15, 2016

May 3, 2016

August 17, 2015

December 19, 2014

August 18, 2014

December 16, 2013

August 15, 2013

July 11, 2013

August 29, 2012

March 19, 2009

January 26, 2009
Publications
January 27, 2015

January 24, 2014

September 19, 2013

January 24, 2013

August 4, 2010

January 5, 2010

April 17, 2009

April 7, 2009

March 19, 2009
Webinars
Events
Co-Presenter, "Benefits Implications of Contingent Workforces," Smith Anderson's 23rd Annual Employment Law Update, Cary, N.C.

October 2015

Presenter, "Correcting Problems with Your Retirement Plan," Smith Anderson's 22nd Annual Employment Law Update, Cary, N.C.

October 2014

Speaker, "DOMA and Your Benefit Plans," Smith Anderson's 21st Annual Employment Law Update, Cary, N.C.

November 2013

Presenter, "Benefits JEOPARDY!," Smith Anderson's 20th Annual Employment Law Update, Cary, N.C.

November 2012

Presenter, "Finding and Fixing Common Benefit Plan Errors," Smith Anderson's 19th Annual Employment Law Update, Cary, N.C.

November 2011